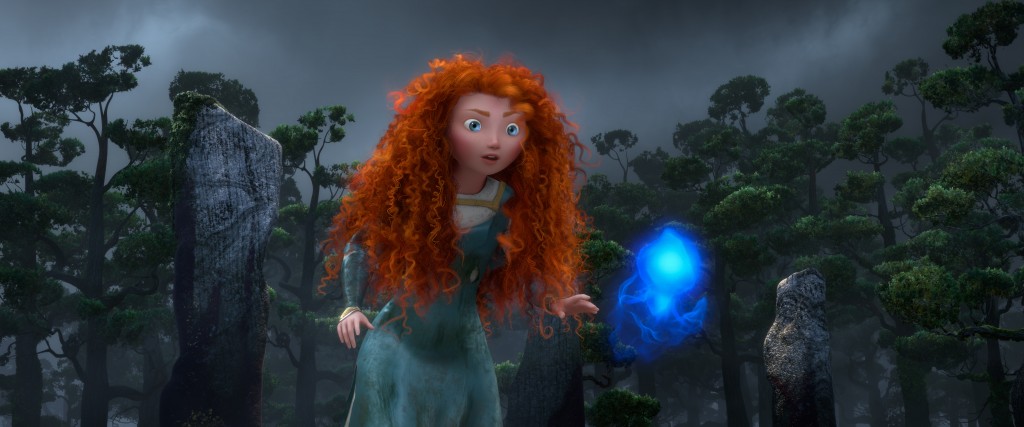 Before taking my son to see Brave 3D, I was warned that the film lacked any strong male characters for a young boy to look up to. Well, that is kind of true but it doesn't mean that the movie is lacking characters that display bravery, strength, and courage. It just so happens that these main characters are females. I am going to sum up my whole take on the film by saying that by the end of the movie my son had his arm around my shoulders and said, "I love you, Mom." My review is complete. The movie shows that even in the tough times, when moms have to be the ones to keep everything in order, we do it out of love and us moms are irreplaceable.  It just takes a twist of fate for the princess to realize that. My son and I both loved the film and were entertained from the time it started all of the way through to the closing credits! Here's a little background on the Will O' The Wisps:
THE LORE
WILL O' THE WISPS
Travelers—particularly those who venture out after sunset on unfamiliar pathways—beware of the will o' the wisps.
It is said—though by whom is a bit of a mystery—that on certain days for certain travelers in certain parts of the world, little lights dance on the horizon, whispering tempting invitations… pledging the answers to lifelong questions, the realization of dreams, a key to secret treasures—a change of fate.
Charmed and curious, unsuspecting travelers follow the floating lights, mesmerized by their whispers, their promises. Yet no matter how long or how fervently they follow, they never quite touch the beautiful beacons whose flickering lights eventually fade and disappear… leaving the inquisitors, the dreamers and the treasure seekers lost… and alone.
* * *
 In Brave," Merida spies tiny blue lights after escaping into the forest in search of a change of fate. Forming a path that dares her to follow, the lights lead Merida to a mysterious location that holds the power to change her destiny—just not in the way she imagines.
"The will o' the wisps are in a lot of Scottish folktales," says "Brave" director Mark Andrews. "They were said to lead you to treasure or doom—to change your fate—but they're an actual phenomenon of swamp and bog gas seeping up through the earth and interacting with the natural resources to create the blue flames. People would follow these lights thinking they were little fairies, and basically drown or get sucked down into the bogs.
"We made the wisps like actual little spirits," Andrews continues. "They're almost like Marley's ghost in a way, because Marley's ghost isn't an evil spirit—even though he's frightening, he's trying to warn Ebenezer to change his ways. That's what the wisps are doing. There's a duality to them, because they're either good or evil—they lead Merida into more and more trouble, but in the end, they've led her exactly where she needs to go."
ABOUT THE MOVIE:
Set in the rugged and mysterious Highlands of Scotland, Disney•Pixar's "Brave" follows the heroic journey of Merida (voice of Kelly Macdonald), a skilled archer and headstrong daughter of King Fergus (voice of Billy Connolly) and Queen Elinor (voice of Emma Thompson). Determined to change her fate, Merida defies an age-old custom sacred to the unruly and uproarious lords of the land: massive Lord MacGuffin (voice of Kevin McKidd), surly Lord Macintosh (voice of Craig Ferguson) and cantankerous Lord Dingwall (voice of Robbie Coltrane), unleashing chaos in the kingdom. When she turns to an eccentric Witch (voice of Julie Walters), she is granted an ill-fated wish and the ensuing peril forces Merida to harness all of her resources—including her mischievous triplet brothers—to undo a beastly curse and discover the meaning of true bravery. Directed by Mark Andrews and Brenda Chapman, and produced by Katherine Sarafian, "Brave" is a grand adventure full of heart, memorable characters and signature Pixar. Opens on June 22, 2012, in Disney Digital 3D™ in select theaters.

Follow @NolaTricia