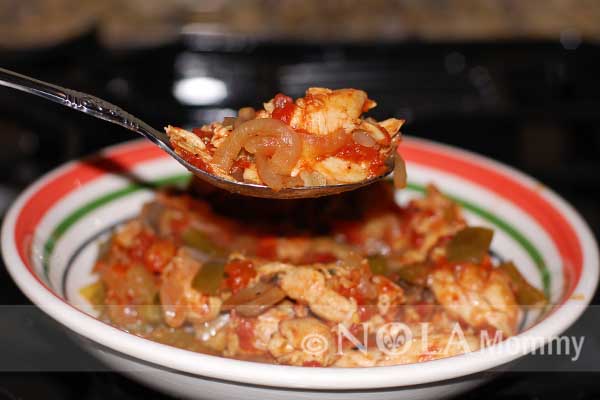 Honestly, I have always eaten shrimp creole and it is mostly shrimp creole that is found on menus around New Orleans. Sometimes when shrimp season is closed and our stash of Louisiana shrimp from the freezer is depleted, I substitute chicken for shrimp. It's a very easy and flavorful dish to put together and will appeal to your entire family. Try it with chicken or shrimp and serve with long grain, jasmine or brown rice.
Sure to be a family favorite this Louisiana Chicken Creole recipe is simple to make but brings big flavor. It's a twist on the more traditional shrimp creole dish commonly seen on menus around New Orleans, LA.
Ingredients
1 medium green pepper, chopped
½ large onion, thinly sliced
1 celery rib, chopped
2 garlic cloves, minced
2 tsp. olive oil, divided
¼ lb. fresh mushrooms, sliced
1 can (14.5 oz.) diced tomatoes, undrained
¼ cup low sodium chicken broth
1 Tbsp. minced fresh oregano (or 1 tsp. dried oregano)
1 Tbsp. lemon juice
½ Tbsp. minced fresh basil (or 1 tsp. dried basil)
¼ tsp. crushed red pepper flakes
Cajun Seasoning to Taste (I used about 2 tsp total)
1 lbs. boneless skinless chicken breasts, cubed
Hot cooked rice
Minced Parsley *optional
Instructions
In a saucepan, saute green peppers, onion, celery, and garlic in 1 tsp olive oil until tender.
Add mushrooms and cook until liquid has evaporated.
Stir in tomatoes, chicken broth, oregano, lemon juice, basil and red pepper flakes.
Bring to a boil and reduce heat.
Cover and simmer 5-10 minutes.
I a separate pot such as a Dutch oven, saute chicken in remaining oil until no longer pink (cook some at a time if needed) Add some Cajun seasoning to chicken.
Return chicken to pan and stir in sauce. Heat through, stirring to loosen browned bits from pan.
Add additional Cajun seasoning if needed.
Serve over rice of your choice.
Top with parsley if desired and serve with a bottle of Tabasco Hot Sauce!
Notes
Goes great with a side of cornbread!

Follow @NolaTricia