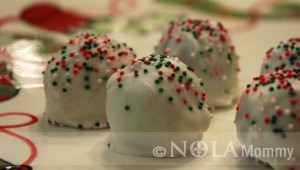 Oreo Bon Bons are one of my favorite treats! My Uncle  is known for making these for every family occasion and I made them for friends for the first time this past weekend. They are very quick and simple to make and, most importantly, they taste as though you slaved in the kitchen. You can decorate them with just a sprinkle of sprinkles (like me) or really go all out via some pinterest inspiration!
Place them in a cute can and they make a perfect gift for a friend, co-worker, or just because!
Enjoy!

A delicious treat that will have your guest going back for more and I am sure someone will ask for the recipe!
Ingredients
1 - Standard Package of Oreos
1 - Standard Package of Cream Cheese
1 - 16 oz pack of chocolate candy coating (I use CandiQuik - Vanilla)
1 tsp - 2tsp Shortening* optional (only if needed to thin chocolate coating)
Decorations
Instructions
Place entire pack of Oreos into food processor and grind until fine
Mix in softened cream cheese until it becomes a dough consistency
Form and roll into balls and place on wax paper
Place in refrigerator while melting chocolate
Melt chocolate any way desired (I use the tray provided and melt in the microwave)
Dip pre-formed balls into melted chocolate and place on the wax paper
If you choose to use sprinkles, place them on prior to drying
If needed, you can add 1 to 2 teaspoons of shortening to chocolate to make thinner
Notes
You can use chocolate or vanilla coating. Oil or powder based food coloring can be added to the vanilla to achieve a color of your choice!
Merry Christmas!

Follow @NolaTricia