One of my favorite places to bring my camera is the Audubon Zoo…"Where they all ask for you!"
This past weekend, in addition to the college football game of the century (ESPN's words, not mine), where LSU proved that they deserve to be #1 in the country, we went to Swamp Fest at the Zoo. It was great listening to Cajun music and seeing everyone in their purple and gold! GEAUX TIGERS!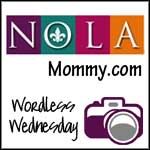 Happy Wordless Wednesday and Thank You for Linking up at Nola Mommy!

Follow @NolaTricia