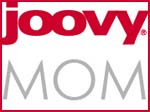 I am very excited to announce that I am a Joovy Mom Blogger! Today, I am featuring a review of the Joovy Zoom 360 Jogging Stroller. For the last two weeks, I have been putting the Joovy Zoom 360 Jogging Stroller to the test. It has been to Audubon Park, Audubon Zoo, Louisiana Festivals, and even endured Black Friday Shopping! I can honestly say that it has exceeded my expectations.
There are a few things that you need to know about Joovy. First, they are an American company with locations in Dallas, TX and Orange County, CA. Buying American and supporting our economy is important to me.  As a family run business, excellent customer service is a priority of  Joovy. They answer the phone when you call and don't put you through the run-around of an automated system. Their signature features include an extra-large canopy on all of their strollers, sealed, ball bearing wheels, and bold fabrics. With Joovy you are getting high-end features without having to pay a high-end price!
When the Joovy Zoom 360 first arrived I thought the installation would be complicated but it was not. I made my husband step away and let me complete the set-up myself. The directions were easy to follow and the stroller was assembled quickly. The frame consists of 6061 aircraft grade aluminium and 600D fabric making it strong and tough! Most notably, the suspension smooths out bumps and provides a comfortable ride for your child. While on bumpy New Orleans sidewalks and various walking paths the Zoom 360 handled each of them with ease. I laugh at my husband because the first thing he shows people is the shock absorbing suspension (I couldn't tell if he was referring to the stroller or my car), andI love the easy maneuverability and stylish design.
The Joovy Zoom 360 Jogging Stroller features an extra-large canopy for added sun protection. Even on the brightest, sunny days you will be able to protect your little one from the sun. If the weather turns from sunny and clear to rain then use the provided, custom rain and wind cover that comes with your stroller. By the handles of the stroller is a neoprene, parent organizer that has two cup holders and a zipper compartment in the middle. The zipper compartment is a nice size and easily fits my keys, cell phone, and wristlet wallet. This is a nice feature because I always look for somewhere secure to place my keys because it's a terrible feeling when you can't find your keys. There is lots of under carriage storage that is easy to access. It fits my diaper bag (which is rather large) with room to spare. Inside of the stroller, your child can reach two mesh compartments that are perfect for placing toys or their favorite snack.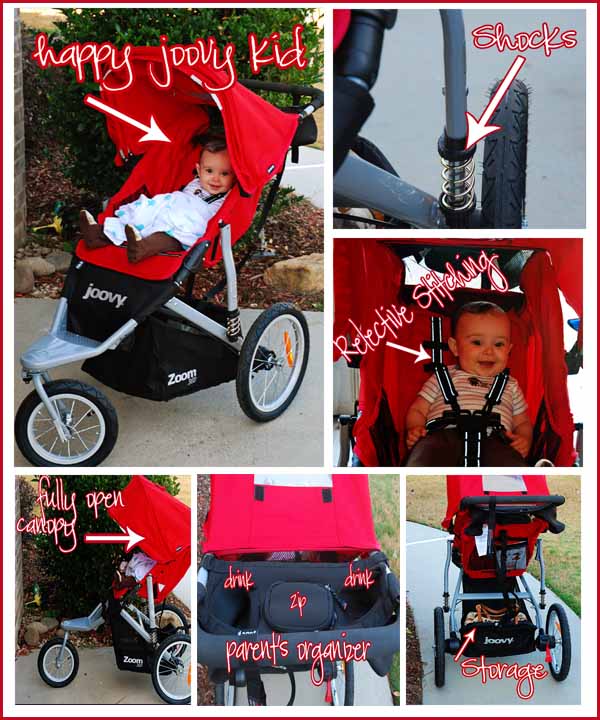 For serious runners, (unlike myself, thanks to a bum knee), the swivel wheel in the front can be locked in the straight position in order to provide a long, stable wheelbase when you run or walk on long straight paths. This is not a feature that I have needed to use, but  I really love how easy the Zoom 360 is to turn and maneuver. It takes minimal, one handed effort to turn and control the stroller with the wheel in the swivel position.
My son is too young to interview about the comfort of the stroller so I'll share my own thoughts. I like the width of the seat and the softness of the seat itself. It just feels comfy. Even at the age of 7 months, the mesh compartments have been used to hold my son's favorite toys and he has the ability to get to them. It is very easy to adjust the straps to the needed shoulder height by putting them through the provided sewn in loops. The seat is a multi-position seat that does not require a great deal of effort to adjust. I've used other strollers that make changing the seat position a challenge. It can go from almost straight up to a full reclining position. So far on our journeys, my son has sat up to eat and laid down to sleep in the Joovy Zoom 360.
One of my favorite design elements, of the Joovy Zoom 360, is that the seat height is higher than most strollers and allows your child to have a view of the action and not look at the backs of people's knees. My son is nosy and likes being able to see what is going on. When we were at a festival we pulled him up to the table we were all sitting at and he could look around and be a part of the action.
Another concern of mine is how easy can a stroller fold and how compact it folds. I was a little worried about the closing mechanism because you have to lift a cable and press a button to fold the Joovy Zoom 360 but once I had the stroller and was able to see it and try it I realized how simple it is. It does take two hands to fold but it isn't an issue. The stroller does weigh about 26 pounds with the wheels attached.  I wouldn't bring it along for a day filled with 20 errands that involve quick trips in and out of the car but for jogging, walking and going to places for an extended period of time it, is the stroller of choice.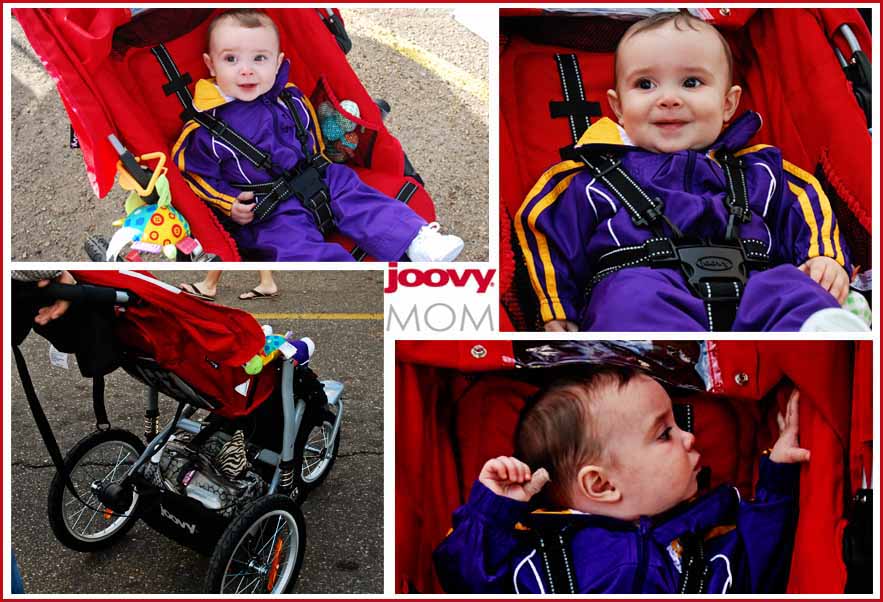 For New Orleans' Moms reading this, in addition to being a great walking/jogging companion on one of the many walking paths in and around the city, it is going to make a perfect Mardi Gras stroller. It maneuvers smoothly over bumpy sidewalks, can be quickly locked in place, provides excellent sun protection while waiting for the parade to start, reclines for a pre-parade nap, sits up high enough for your child to see the action, and has lots of storage so you can bring everything your child needs on the parade route.
Some comments made by other moms:
"That Joovy Stroller is really groovy!" (Comment made by a Dad)
"Do they make that in my size?" and
"That is the [insert luxury brand car] of strollers!"
Here is my video review of the Joovy Zoom 360:
You can learn more about and find out Where to Buy your own Joovy and the various products they offer here:
Disclosure: I received a Joovy Zoom 36o Jogging Stroller to facilitate this review. As always, all opinions are 100% my own!

Follow @NolaTricia