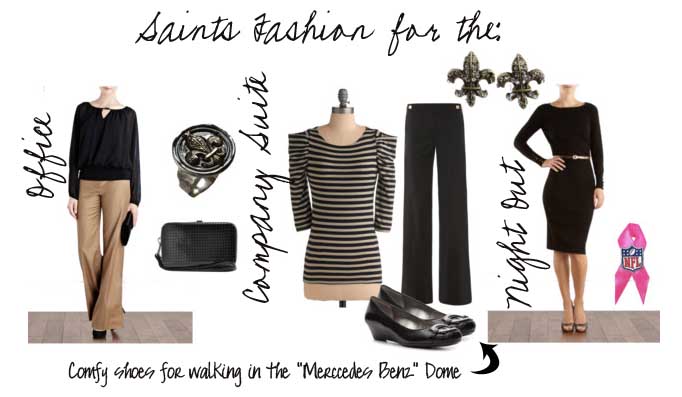 Ruched tube dress, Top, Striped top, Diane von Fürstenberg black pants, Bandolino kitten heel pumps, Flower clutch,  Betsey Johnson fleur de lis jewelry
Unique & Inspiring Jewelry from Waxing Poetic (fleur de lis ring)
My normal game-day fashion consists of a Drew Brees jersey with jeans.
(I have one in traditional black, the Super Bowl 44 version, and a pink one!) All #9's!
My oldest son wears either #9 Brees, #12 Colston, or #51 Vilma.
My littlest son sports a mini #9 Brees and my husband wears a black polo with the Saints logo.
That is my family's traditional game-day gear, but every once in a while we have the opportunity to watch the game from somewhere that requires a little more effort. In honor of the Saints crushing the Indianapolis Colts last night (62-7) here are my fashion choices for various Saints themed occasions.
From the office, in the Dome, or a night out be ready to
support your favorite team in style!

Follow @NolaTricia