Every year, for the last five years or so, we have participated in the tradition of "Boo-ing" your neighbor. I don't know who the first person was to start the tradition but it's one that we make sure to keep every year. I remember the first time we had something show up on our doorstep. We had just moved into our house that September and were just getting to know our neighbors. Then one day a gift bag with various Halloween treats showed up with a note about passing it on to two more neighbors. It was a cute welcome to the neighborhood.
Friday night we got "Booed" and so last night we passed it on to two more neighbors. My son and husband acted like they were on a special ops mission. They carefully planned which house they would hit first and where the car needed to be so it wouldn't be seen. I was the designated get-away driver and my son was the one who dropped the treats on our neighbors' doorsteps and ran. His "Boo-ing" skills have dramatically improved over the last few years. One year he put it on a doorstep then saw his friend through the window so he stopped to wave. Now he's focused on a sneak attack!
The best part of our "Boo-ing" Mission was passing by to make sure each of them had gotten their baskets. At the first house you could see a child playing with a toy from their basket and at the second house the kids were taping their "Booed" Sign on their front door. That's what "Boo-ing" is all about; it's the surprise of finding a little unexpected treat on your doorstep. If your neighborhood doesn't have a tradition like this one, then be the one to start it. It will spread and you will see "Boo" Signs popping up everywhere.
I designed this Boo Sign and Boo Instructions and am sharing them with you. Print them and start "Boo-ing" your neighbors!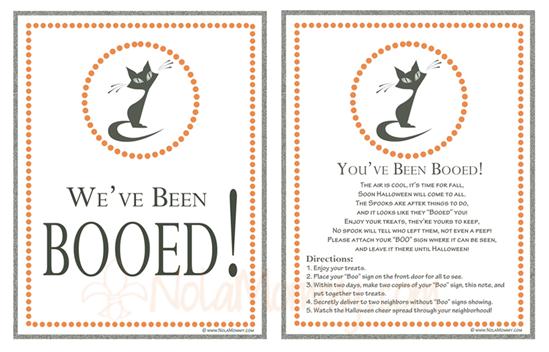 Click Here to Download your Free Printable Boo Sign
Click Here to Download your Free Printable Boo Instructions
Happy Halloween & Happy Boo-ing!

Follow @NolaTricia