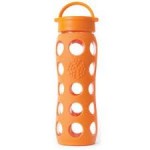 Sometimes it is the simplest of changes that make the biggest impact. By switching from plastic, chemical ridden water bottles you are not only helping the environment but you are also choosing to live healthier. Research indicates that harmful chemicals in plastic can contribute to cancer and other medical conditions.
Recently, I had the opportunity to review the Lifefactory22oz glass beverage bottle with silicone sleeve in orange. It's been a while since I switched to drinking filtered water in refillable plastic water bottles supposedly free of chemicals. Then I learned that even those plastic bottles were found to have hazardous chemicals. It was at this point that switching to a refillable, glass bottle made total sense. The problem with a plain glass container is the threat of breakage. The Lifefactory silicone sleeve makes the risk of breakage much less by protecting the glass. It also makes the bottle easier to grip.  It has a screw cap top with adequate space to put in fresh fruit, citrus, or tea. The only time that the cap can be a challenge is while working out on the eliptical or such. My favorite feature of the Lifefactory glass beverage bottle is that it fits in my cup holder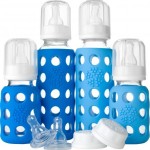 of my car and unlike plastic bottles who transfer the taste of plastic into the water after a short time in the sun, this bottle does not do that. Also, it is very stylish to carry.
In addition to their line of adult products, Lifefactory has a line of kids and baby products including baby bottles and teethers.
Free of known harmful chemicals including bisphenol-A (BPA), phthalates, and polyvinyl chloride (PVC)
All components are FDA approved and made with medical grade silicone
Easy to clean and are dishwasher safe
Silicone sleeve is free of plastics and 100% non-toxic
With glass there is no chemical leaching and no metallic taste
Wide mouth bottle make it easy to add ice, citrus slices, tea bags, etc.
Patent pending silicone sleeve provides a great gripping surface and helps to prevent breakage
Click here to order your Lifefactory glass bottle to hydrate your family in a healthy way!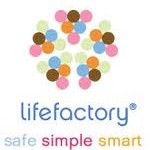 Follow @NolaTricia