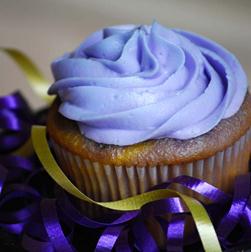 It's getting close! There is now talk of training camps and power rankings! But as much as I love football, my favorite thing is getting together with friends and family to watch the games. For us, Saturday means LSU games and Sunday is reserved for Saints games. I'm already trying to come up with ideas for when it's my turn to host. My son and I made cupcakes and dyed them LSU purple and gold and tinted the icing purple. They turned out really cute and would be a great addition to an upcoming LSU party. We are definitely going to make them again and play around a little more with the icing coloring. Maybe just leaving it white and putting purple and gold sprinkles. Try it with your team's favorite colors. For the cake I used a standard white cake mix and separated it in two bowls adding food coloring to each. Then I filled the cupcake papers with a spoon adding a little of each color at a time. Finally I took a toothpick and swirled the two batter colors. (not mixing them, just swirling) For the icing, I used a standard vanilla buttercream recipe and added Wilton's gel food coloring in violet.
Vanilla Buttercream

3 cups confectioners' sugar
1 cup butter
1 teaspoon vanilla extract
1 to 2 tablespoons heavy cream
Use softened butter and gradually mix in confectioner's sugar using a hand/stand mixer. After mixing add vanilla extract and heavy cream. Start with 1 tbs heavy cream and add more if needed. If icing becomes too thin add additional powdered sugar.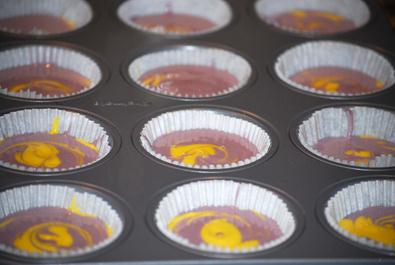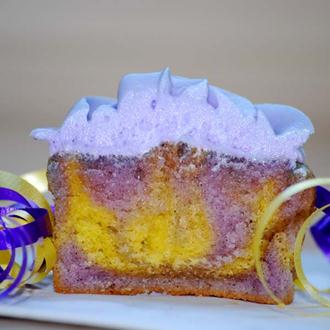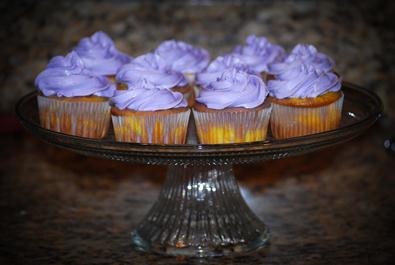 What's your favorite team's colors?

Follow @NolaTricia