Peach cobbler is a Southern delicacy. Unlike pie, cobblers do not have a bottom crust and they are traditionally served hot with a scoop of vanilla ice-cream. Cobblers come in many flavors such as blackberry, blueberry, and, of course, peach. Peach is definitely my favorite variety. The texture and sweetness of the peaches go perfect with the dough and then when you add ice cream and a hot cup of coffee on the side it'll make you feel like you're sitting on your grandma's back porch talking about the good ole' days. This recipe is quick, easy and will impress your guests.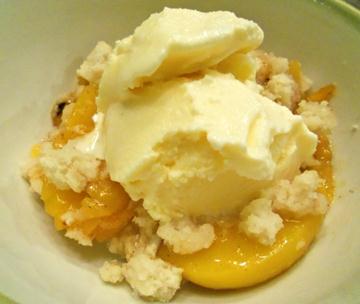 Ingredients:
Option #1:
4 cups sliced fresh peaches (approximately 6 medium peaches)
Option #2:
2 – 16oz packages of frozen, sliced peaches (thawed and well drained)
½ cup sugar *depending on how sweet you want it you can add a little more*
1 tablespoon cornstarch
¼ teaspoon ground cinnamon
1 teaspoon lemon juice
1 large egg
1 cup sugar
1 cup flour
6 tablespoons melted butter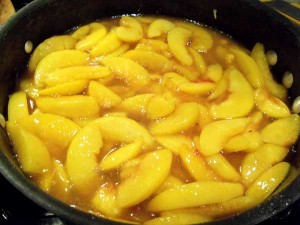 Directions:
Preheat oven to 375 degrees.
Mix ½ cup sugar*, cornstarch, and cinnamon in a large sauce pan. Stir in the peaches and lemon juice. Cook over medium heat stirring constantly, until the mixture thickens and boils. Boil and stir for 1 minute. Pour into ungreased 2-quart casserole dish
Stir together egg, sugar, and flour in a medium bowl until mixture resembles coarse meal. Sprinkle over fruit. Melt butter and drizzle over topping.
Bake 40-45 minutes or until lightly browned and bubbly.
Let stand 10 minutes.
Serve with ice cream with a scoop of vanilla ice cream (optional)
Note: For individual cobblers, prepare recipe as directed and bake at 375 degrees for the same amount of time in 6 ramekins on a foil lined baking sheet.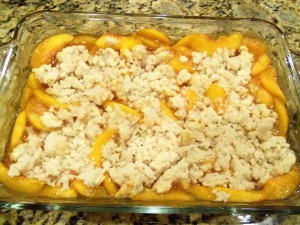 Enjoy!

Follow @NolaTricia