It's Monday and what's for dinner? Around here on Monday it's most likely going to be a plate of red beans and rice. Tradition says that on Monday you did the washing and put on a pot of beans with the leftover meat from Sunday's ham.  It is usually served with additional sausage or meat on the side and a side of cornbread.  
When my husband and I were first married my cooking skills were hmmm………….. non-existant. It was my mother-in-law who took me under her wing and taught me how to cook traditional New Orleans/cajun dishes. She grew up in Cajun country and is an excellent chef (just ask my hubbie). For a traditional pot of New Orleans Red Beans cook as follows:
– Rinse and Sort through your dry red beans, look for any that are shriveled and very dark in color and throw those out. Some say there is an art to bean sorting.
– Soak your beans for an hour or so in warm water before cooking (this softens them a little)
– Take 1 pack of cajun sausage and slice, place in a large pot, and listen to the sizzle, stirring occasionally
– Once the sausage is browned add in 1 medium chopped onion, 1/2 chopped bell pepper, 1 tbs of minced garlic, and a few shakes of Tony Chachere's (season to taste), Cook this down until the onions and bell pepper are soft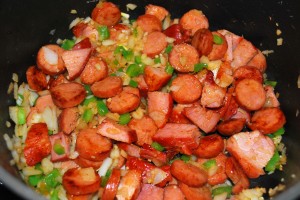 – Add red beans to pot and cover with water, keep on medium heat to maintain a slow boil
– Stir frequently and add water as needed, cook for approximately 2-2 1/2 hours. Remeber to keep addding water and additional seasoning to taste.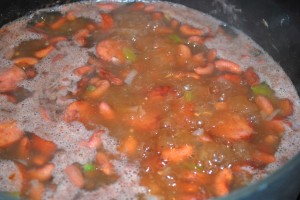 – About 30 mins. prior to serving I add a 1/4 – 1/2 stick of butter (this is the secret to creamy red beans) and use the back of your spoon to smash some of the beans to increase the creamy texture of the beans
– Serve with rice, cornbread, and a bottle of Tabasco
ENJOY!!!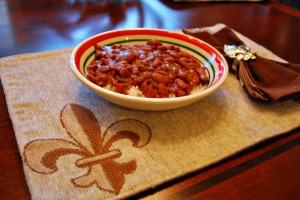 Follow @NolaTricia