When going over our list of desserts of Thanksgiving it was brought to my attention that we lacked anything with chocolate. That was not acceptable, so I dug out this chocolate masterpiece that I have wanted to try for a while. I plan on making them for a few Christmas parties in the near future. Enjoy!
Makes 15 servings   ~   Prep 15 min.   ~ Bake 40 min.
             Brownies:
1 cup chopped pecans
1 cup butter
1 (4-once) semisweet chocolate baking bar, chopped
2 cups sugar
1 & 1/2 cups all purpose flour
1/2 cup unsweetened cocoa
4 large eggs
1 tsp vanilla extract
3/4 tsp salt
1 (10.5 oz) bag of mini marshmellowsChocolate Frosting:
1/2 cup butter
1/3 cup unsweetened cocoa
1/3 cup milk
1 (16 oz) pack of powdered sugar
1 tsp vanilla extract
Brownie Instructions:
Place pecans in a single layer on a baking sheet
Bake at 350 degrees for 8-10 minutes or until toasted
Microwave 1 cup butter and semisweet chocolate in a large microwave safe glass bowl at HIGH for 1 minute or until melted and smooth, stirring every 30 seconds
Whisk sugar and next 5 ingrediants into chocolate mixture. Pour batter into a greased 15x10x1 inch jelly-roll pan.
Bake at 350 degrees for 20 minutes. (This is a good time to make the chocolate frosting) Remove from oven, and sprinkle evenly with miniture marshmellows. Bake 8-10 minutes or until golden brown. Drizzle warm cake with chocolate frosting and sprinkle evenly with toasted pecans.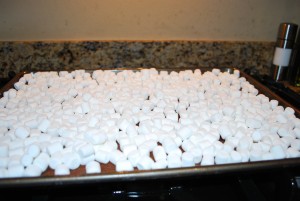 Chocolate Frosting:
Stir together first three ingrediants in a medium sauce pan over medium heat until butter is melted. Cook, stirring constantly, 2 minutes, or until slightly thickened. Remove from heat. Beat in powdered sugar and vanilla at medium to high speed with electric mixer until smooth.