Has your child been on their best behavior because they know that their Elf on the Shelf is reporting back to Santa? Let them know that their good behavior has been noticed by their elf and he or she has reported it to Santa and Elf Headquarters located at the North Pole! This sweet little note is for a standard sheet of paper which you can roll up and tie with a cute ribbon and have your elf deliver. According to the note, the Naughty and Nice list is still a work-in-progress so they need to keep up their good behavior!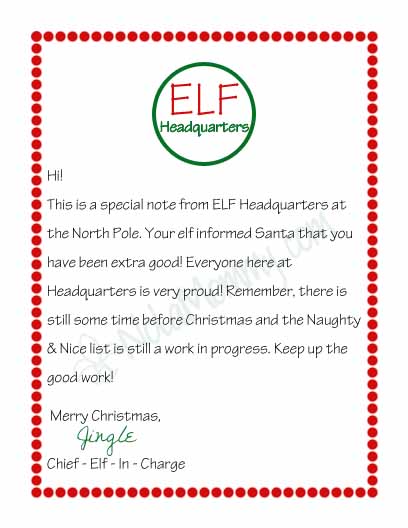 DOWNLOAD YOUR FREE ELF ON THE SHELF LETTER HERE
Check out some very cute name ideas for your Elf on the Shelf and add your elf's name to the list!
 NAME IDEAS FOR YOUR ELF ON THE SHELF

(I originally published this in 2011 on a sharing service that used to be completely free.
Unfortunately, they changed their policy about free sharing without notifying me and charged for the download.
Thank you to everyone who emailed me and I hope you get a chance to print it before Christmas! ~Tricia)


Follow @NolaTricia