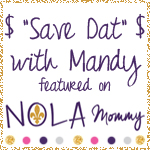 One way to be very successful in your couponing is to get your hands on weekly ads.  This is where Organization of your coupons comes in handy.  Each week plan a time to sit down with your weekly ads from the stores and your coupons to be able to match the coupons to the items that are on sale that week.  Once you get into the groove of couponing you will come to realize that certain items go on sale every so many weeks.  Stores usually have a rotation of items that you can count on to go on sale every 3 weeks or so.
The grocery store ads usually come out in the Wednesday paper because there sales go from Wednesday to Tuesday.  Rouses, Winn Dixie, and Albertsons to name a few.
Most all the other stores will run their ads in the Sunday Paper.  This is because their sales run from Sunday to Saturday.  Target, Walmart, CVS, and Walgreens fall into this category.
If you look on some of the popular couponing websites, they will post the Target Ad on Thursdays, this way you can get a jump start on the next week.
CVS will come out with their ad online on Thursday mornings at CVS.com.
Walgreens will e-mail you their weekly as if you sign up to receive their emails at Walgreens.com
One site that I have come across and that I find particularly handy is Pirc.com
This site does all of this work for you.  You simply sign up and chose your stores, and each week you will receive your own personal pircular in your inbox with the ads and the matching coupons all in one place.  It also includes multiple stores so that you can price match to be sure you are getting the best price for the item.  It also provides a Shopping list that you can print out and links to available coupons online that you can print. The best part, it is FREE!!!!
Pirc.com is definitely a site to try and sign up for.  It is a time saver and a learning tool when it comes to finding those weekly deals!!