I am thrilled to introduce a new weekly post called "Save Dat with Mandy." I remember after my youngest son was born, I went to Mandy and asked her to teach me how to coupon. I knew there was more to it than just cutting out a coupon here and there and I wanted to decrease my ever increasing grocery bill. I expected a few tips, but instead she gave me a study guide and walked me through the "art" of couponing! I have to admit, I still get a kick out of showing my husband how much I saved by using coupons and I view it as a challenge.

I really hope you enjoy these tips as much as I do and I look forward to
furthering my coupon education through "Save Dat with Mandy!"
Go to the NOLA Mommy about page to learn more about Mandy!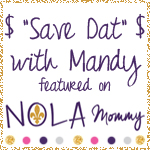 Never used a coupon in your life? Here are a few tips to help a newbie get a running start to jump on this couponing bandwagon!
 Sunday Paper– One of the best sources of coupons.  Buy a newspaper on Sundays to get your best coupons.  Buy several, this way you have multiple copies of the coupons.
Ask family and friends for their coupons– some people have a newspaper subscription and never use the coupons.  I see it as "being Green" less paper to waste if you use the coupons?  Also if you frequent a coffee house or favorite eating spot, ask them to save the Sunday paper for you.  Most places will be happy to do this, because they are going to simply throw it away anyways.  If you have relatives that live out of town, ask them to save or mail you the coupon inserts each week.  In different regions, there are different coupons.  Often they will have higher value coupons or store coupons that you just don't get in your paper.
Check the stores websites– So many "newbies" do not know that you can use a store coupon with a manufacturer's coupon.  So, check the stores websites for printable coupons, sign up for mobile coupons and additional savings that you can sign up for.
Couponing websites– There are a lot of couponing internet websites.  Often they offer high value coupons.  Print them immediately, often they are in limited supply and when they are gone, they are gone.
Facebook– Have a favorite brand of cookie? Chip? Drink?  "Like" there Facebook page, often products run high value coupons that you can only get through Facebook and only have access to if you have "liked" their page.  If it is a product that is new or not as popular, you are more likely to get coupons on their Facebook page.  Again, these are often in limited supply.  So print them when you see them.
Organization
There are several ways that you can organize your coupons.  You have to figure out what works for you.  This might be some trial and error.
Coupon binder– This seems to be the first thing that a beginner coupon turns too.  Just purchase a big 3 inch binder with dividers, or baseball card holders.  Simply cut each coupon and file them in the baseball holders.  You can organize them by household, food, etc.
Envelopes– This is the simplest way to start organizing your coupons.  Clip the coupons and simply place them in an envelope.
Insert filing– Simply file the complete insert each week.  Date them and use an online system to organize your coupons.
Plan, Plan, Plan
Couponing can take up a lot of time.  But here are a few steps to do each week see your savings add up.
 Know your store coupon policy– often you are able to stack coupons at certain stores.  Target for instance, you can use a manufacturers coupon, a target coupon, a mobile coupon and cartwheel, all on one item.  The savings can sometimes be 30 to 40 percent off an item or in some cases even make the item free!
Loyalty cards– If your store has a loyalty card get one!  Often the stores only give discounts when you use your card with the purchase.
Printable coupons– if your store accepts printable coupons, use them.  As mentioned earlier, they can be high value and also combined with store coupons
Weekly ads– Each week stores have ads in the Sunday papers and online for their sales for the week.  To get the best deal, try and match your coupons to the item that is on sale that week.  This maximizes your savings.  There are several online websites that do this for you; this can save you a lot of time.
Make a list and set out your coupons– When you receive your weekly ad, start a list of items that you intend to purchase and then pull out the coupon and set it to the side.  This way when you are in the store, the list keeps you on track with your purchases and the coupons are ready when you check out.
Watch the cashier and check your receipt– When you check out, watch the price screen, often products do not ring up right or coupons do not scan.  After you check out, check your receipt.  Make sure that you received all of your discounts, if there is a problem; go to customer service before you leave the store to get it fixed.
There is so much to couponing, but hopefully these tips will get you started in the couponing game!  Do your research online, there are so many sites that offer great advice and tips that can save you time and energy.

Follow @NolaTricia