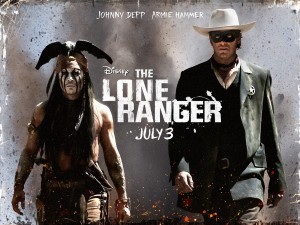 First let me say a huge THANK YOU to Disney for sponsoring this post and for coming to NOLA on June, 22 2013 for a scavenger hunt! This movie had already been on my radar since my oldest son can't wait to see it and I am a fan of any movie starring Johnny Depp.  My son and I really enjoyed all  of Pirates of the Caribbean movies, which also starred Johnny Depp, and the the same creators are behind The Lone Ranger! It's a mommy win-win situation.
In the movie The Lone Ranger – in theatres July 3, 2013 – a Native American spirit warrior, Tonto (Johnny Depp), recounts the untold tales that transformed John Reid, aka, the Lone Ranger (Armie Hammer), a man of the law, into a legend of justice. The two unlikely heroes must learn to work together and fight against greed and corruption. But before the movie hits theaters on July 3, New Orleanians have a chance to jump into the action and find Tonto and the Lone Ranger somewhere in NOLA!
Here's a little more information about how the scavenger hunt works:
Life-size and ultra-realistic statues of the Lone Ranger (Hammer) and Tonto (Depp) riding horseback will be embarking on a journey across the country – kicking off in NYC and ending in LA, just in time for the movie's premier. They'll be gracing rooftops, mountaintops and famous landmarks along the way, only staying long enough in each city to be discovered by the locals before they continue their ride westward.
The twist is that no one will know where Lone Ranger and Tonto will appear or where they're going next. So Disney is challenging you through social media to participate in a scavenger hunt to find the physical statues, or to guess their location based on a photo clue.
In each city, two clues will be released on The Lone Ranger Ride for Justice tumblr page. The first clue will be a hard clue, and the second, posted later, will be an easier one. Participants are asked to find Lone Ranger and Tonto, take a photo and upload to Instagram or Twitter with hashtag #LRRideforJustice for a chance to win a trip for two to New Mexico. All users must first register the sweepstakes on the tumblr page. On Saturday, I'll be sending out the clues via my twitter account too!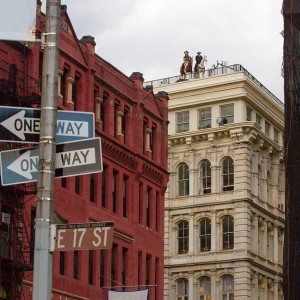 Here's how you can participate:
Step 1: To participate in the Lone Ranger Ride for Justice scavenger hunt, first enter the sweepstakes on The Long Ranger Ride for Justice tumblr page and be sure to include your Twitter & Instagram handle to track your photo submissions and location guesses.
Step 2: Spot the Lone Ranger and Tonto in your city by following the clues posted on The Lone Ranger Ride for Justice tumblr page. Tweet or Instagram your photo of the statues with #LRRideforJustice.
*** Remember to register for the sweepstakes and don't forget to include the hashtag #LRRideforJustice ***
Why participate? Well, Disney is giving away a great prize to the grand prize winner!
The grand prize is a trip for two to New Mexico provided by Delta Vacations and customized excursions provided by New Mexico True – the ultimate Lone Ranger experience (valued at ~$5,000). The winners will be staying at a beautiful ranch where the cast stayed during filming – it is also the location of a memorable scene in the movie.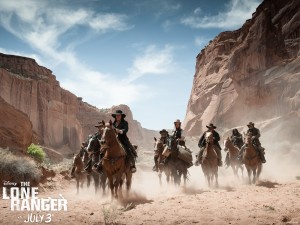 Join me this Saturday, June 22 and let's find the Lone Ranger and Tonto!
Disclosure: This article is sponsored by Disney. As always, all opinions are 100% my own.

Follow @NolaTricia