Do you have a little entrepreneur  who is interested in running their own business? If so, take the time to check out Lemonade Day in Louisiana. My oldest son and I found this program at a local Raising Cane's last year and have been looking forward to it and it is almost here! This along with other great events can be found on Nola Mommy's Calendar of Events! Check it often for upcoming events in the NOLA area.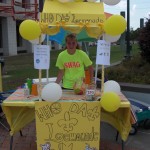 Lemonade Day is Saturday, May 4, 2013. Kids throughout Louisiana will learn how to start, own and operate their own business – a lemonade stand. All registered participants will receive a yellow backpack – inside is everything you need to prepare for Lemonade Day. Get a backpack, make a plan and get started making money! Here's how:
1. Pair Up: You must have a "caring adult" with you when you register – that could be a parent, grandparent, older sibling, teacher, scout leader or other responsible adult. You must have an adult say that it is OK for you to do Lemonade Day and operate a lemonade stand.
2. Register: Sign Up at http://louisiana.lemonadeday.org  (After completing the online registration, you will receive an email instructing you to print out the reply and bring it with you to any Raising Cane's restaurant. Don't forget this part!)
3. Pick Up Your Backpack at one of the Raising Cane's locations in the area.  Backpacks will be available after March 28th. Click here for the list of backpack locations that still have them available. Many are already of out of backpacks.

4. Prepare for Lemonade Day:  When you get your backpack, you'll find two workbooks: one for you and one for the adult working with you.  At your own pace, work through these lessons about starting, owning and operating a business.
5. Inform us where your stand will be:  As May 4th approaches  go to the website and input where your lemonade stand will be.  Please be creative with your stand and you may sell other items, ie cookies, brownies, etc.
6. Set Up Your Stand on May 4th: You can setup your stand wherever you wish but if it is on private property, you need to ask permission.  On May 4th, you'll be one of thousands of kids across Louisiana selling lemonade – think about how to stand out from your competitors and have a blast and make spending money!  And be sure to donate a portion of the proceeds to a charity of your choice- we can all make a difference in our community!

Follow @NolaTricia