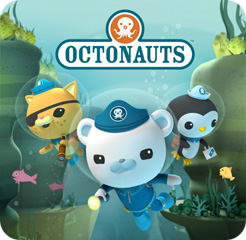 As a mom, one thing  you learn is that there are shows on television that you can tolerate and the ones that make you scream! Thankfully, on Disney Jr. there are shows that are filled with adventure and promote learning that both you and your child can watch together! One of our favorite shows is Octonauts! It's a really fun show that follows the daily adventures of a team of eight underwater heroes that explore the world's oceans, rescue the creatures who live there and protect their habitats both above and below the water! Thankfully, Toys-R-Us is now featuring toys from the Octonauts show! My son, who just made 2, loves to play with toys of characters from his favorite shows.
This eclectic crew of scientists and explorers, led by Captain Barnacles, is equipped with a fleet of aquatic vehicles and underwater gadgets that come in handy when rescuing sea creatures, exploring incredible new underwater worlds, and saving the day before returning safely to their home base, the Octopod. The show is unique in that it teaches about marine life.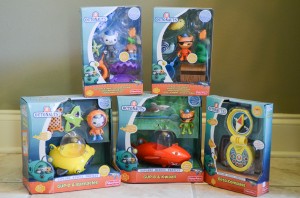 I am very thankful for the opportunity to review the new toy line with my son
and share it with you!
First, there are the vehicles. There is the Octonauts Gup-B Mission Vehicle and Kwazii which features Lieutenant Kwazzi and the shark inspired GUP_B mission vehicle and the Octonauts Gup-D Mission Vehicle and Barnacles which features Captain Barnacles and the Manta Ray Gup-D mission vehicle. They both feature color changing creatures and rescue tools and they both work in land or in the water. These are at the top of my list of fun toys because they get the most use in our house. My little guy loves bath time because he gets to play with both of the these great toys!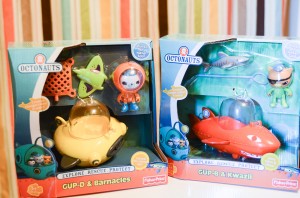 Also, toys that can be used in water like the bathtub are these action figures. They come with Octonaut characters and a water squirter! They also change color when in warm water.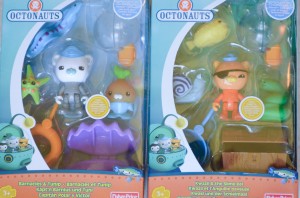 Our favorite, non-water, toy is the Octonauts Octo-Compass. Your child can act out their favorite missions with the hand-held Octo-Compass. Hear phrases from your favorite Octonauts characters Barnacles, Kwazii, and Peso! It also features creatures sounds and the signature Octo-Alert signal. We bring this toy along for car rides and it keeps him entertained. Thankfully it says of 60 phrases and creature sounds so there is a lot of variety coming from the back seat. It folds up and is easily stored in the side pocket of our carseat or stroller.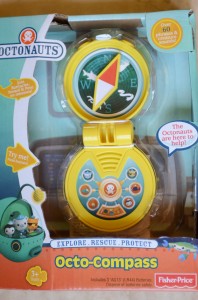 Be sure to check your local listings to watch Octonauts on Disney Junior! You can also click here to find them on the web and also find them on Twitter & Facebook:
Disclosure: I was given these toys for review and, as always, all opinions are 100% my own!

Follow @NolaTricia