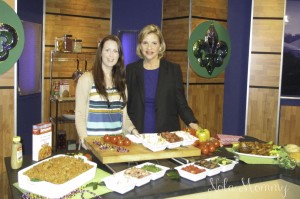 I was honored to meet the "First Lady of Football," Olivia Manning and learn some great recipes using Zatarain's for this weekends upcoming Super Bowl. The last 4 out of the last 6 years she has been cheering on one of her NFL quarterback sons in the big game but this year she is entertaining them while they watch the Super Bowl as a family. (Wouldn't you just love to hear the commentary at that Super Bowl party?) If your from New Orleans, then you know of the Manning family and their contributions to the city of New Orleans. Dad Archie Manning was the Saints quarterback in the 1970's and although those years weren't known for winning records, Archie's talent on the field was evident. But before being drafted by the Saints, he was the quarterback for Ole Miss where met his future wife, Olivia. They have three sons, Cooper, Peyton, and Eli Manning. Both Peyton and Eli have Super Bowl rings and were named Super Bowl MVPs. For the record, little brother Eli has two rings after beating the Patriots TWICE! When I polled fellow New Orleanians for the post, "You know you're from New Orleans if…" I was amazed how many people mentioned cheering on the Manning boys. They were raised in the city and attended a local high school where their football journey's really begun.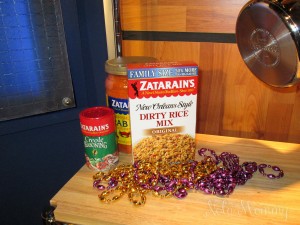 Olivia was extremely kind to share what it is like to be a mom watching her sons play in the NFL. She really tries to watch every play they make and lets Archie do the pacing. But what about when they are playing each other? Well, that is where she tries to be as neutral as possible by not wearing one teams colors or excessively. She has firsthand knowledge for the parents of the Harbaugh brothers of what's its like to watch brothers compete against each other on the world's stage. Peyton and Eli have yet to meet in the Super Bowl but with one son in the AFC and another in the NFC it is a possibility. Next year they will face off in New York when the Giants host the Broncos.
Her Southern charm was evident when talking about moving to New Orleans from a small town in Mississippi. She was a little worried at first about the raising sons in such a large town with so much to do. In contrast to where she grew up and parents were notified in 10 minutes if you had gotten into trouble. But she said they all really enjoyed the experience of growing up in New Orleans and took away from it so many things including the people, food, music, and culture. She mentioned how special it is to now  see her sons grown and being Dads to their own children.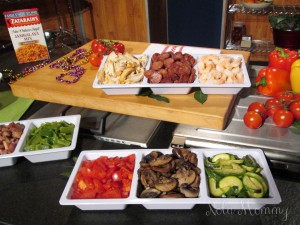 I know everyone is preparing for the Big Game and so I wanted to share with you the recipes that Olivia Manning will be incorporating in her game day spread and you can too! They are creative recipes such as a Jambalaya Fixings Bar, Dirty Rice Tacos and "Westbank" Wings. Below is the recipe for Olivia Manning's Ultimate Jambalaya Bar. You can visit Zatarain's Facebook Page to get the Dirty Rice Taco recipe and the Westbank Wings Recipe.
Olivia Manning's Ultimate Jambalaya Bar
Add a jambalaya bar to your next gameday party so fellow fans can customize their perfect party plate!
Ingredients
2 cups water
2 tablespoons vegetable oil (optional)
1 package ZATARAIN'S® Jambalaya Mix, Original
1 pound Meat of your choice: smoked sausage, thinly sliced or cubed chicken or cubed ham or peeled and deveined shrimp, cut into bite-size pieces
AND / OR Vegetables of your choice: bell peppers, onions, mushrooms, zucchini or fresh chopped tomatoes.
Instructions
Bring water and oil to boil in 3-quart saucepan. Stir in Rice Mix; mix well. Return to boil. Reduce heat to low; cover and simmer 25 minutes or until most of the water is absorbed and rice is tender.
Remove from heat. Let stand 5 minutes. Fluff with fork before serving and adding in choices of meat, seafood and vegetables.
NOTE: All meat, seafood and vegetables (except tomatoes) should be cooked properly before adding into prepared jambalaya.
Test Kitchen Tips:
•If using shrimp, add shrimp to rice mixture during last 5 minutes of cooking.
•If milder or spicier Jambalaya is desired, try Zatarain's® Mild Jambalaya Mix or Zatarain's® Spicy Jambalaya Mix.
Microwave Directions: Mix 2½ cups hot water, 2 tablespoons vegetable oil (optional), 1 pound meat of your choice and Rice Mix in 2½-quart microwavable dish. Cover. Microwave on HIGH 25 minutes or until most of the water is absorbed and rice is tender, stirring occasionally. Let stand in microwave 5 minutes. Fluff with fork before serving.
Note: Microwave ovens vary; cooking times may need to be adjusted. Cooking times are based on an 1100 watt microwave oven.
Caution: Bowl and contents will be very hot. Use pot holders when removing from microwave

Follow @NolaTricia