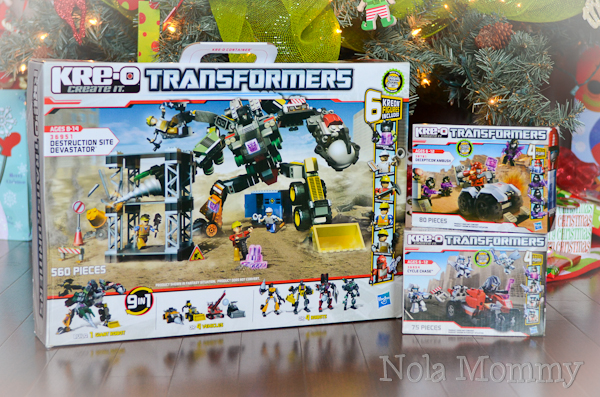 I've learned a lot of things over the last few years that I never thought I would know. Did you know that I can name almost every Transformer by name and identify whether or not he is a good guy "Autobot" or bad guy "Decepticon"? Yes and I've also learned that little boys love Transformers and they love to build things themselves. That is why Hasbro's KRE-O Transformers sets make the perfect gift for the little boys in your life this holiday season. They let kids build Transformers characters in either their robot or vehicle modes using the same bricks! That sounds really cool to the kids and to me it says that I get twice the fun for the same price.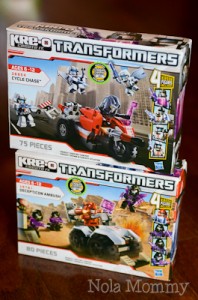 Also, each Hasbro's KRE-O Transformers set comes with KREON figures which feature Autobots and Decepticons. Remember, that is the good versus bad guys. My 10 year old son loves playing with the KREON characters and bases his set selection on what characters are in the box.  He also enjoys building and rebuilding them between modes. He doesn't just build them and stick them on a shelf afraid he'll never get them back together.
On Christmas morning after your child opens up his own KRE-O Transformers set he'll be entertained with all of the different ways he can build and play with his KRE-O Transformers set. This will be my son's 10th Christmas and there is nothing worse than giving him a gift that he opens, hits a few buttons, and puts it to the side in less than 2 seconds. This is NOT that type of gift. Oh no, this is the kind of present that he will sit down and enjoy, especially since all of his favorite characters are in it.
The Battle for Energon set includes pieces to build two of the most iconic Transformers characters – the heroic and ever optimistic Optimus Prime and the evil Megatron. Both of these iconic characters are in one set! The sizes of the sets vary. The smaller sets like the Cycle Chase set and the Decepticon Ambush set are great for beginning builders, ages 6 & up. They are also the perfect size to fit in a stocking. Now the Destruction Site Devastator set is the ultimate gift for advanced builders ages 8 & up. Kids can build four construction vehicles, four construction robots, or the massive Decepticon robot Devastator! I really like the versatility of these sets and how they push my son to use his creativity.

As a great add on to a set, Hasbro offers KREON Micro-Changers Mystery Bags for just $2.99. Each Mystery Bag contains a random KREON figure, which can also convert into an alternate mode like a jet or an insect. For me, the Micro-Changers make a really good surprise or reward for something like good grades or keeping a clean room for an extended period of time. (It's more likely for good grades than for a clean room in this house!).
There is still time to surprise the little boy in your life with a Hasbro's KRE-O Transformers set this Christmas. You can learn more about Hasbro's KRE-O Transformers sets on the web at these locations:
Disclosure: I am part of the Mom It Forward blogger network. Mom It Forward and Hasbro partnered in support of this campaign. Hasbro compensated me for participation in this campaign. However, all thoughts and opinions expressed are 100% my own. My son was a big fan of these toys before I agreed to the program 😉


Follow @NolaTricia