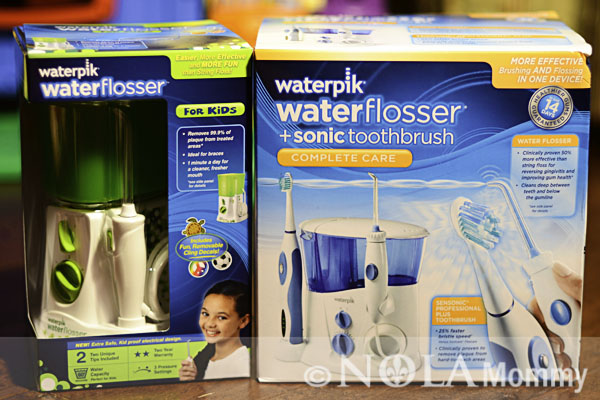 Before I tell you all of the reasons why I really enjoy using the Water Pik Water Flosser and Sonic Toothbrush Combo, first let me start by telling you that I have a dentist phobia. I try to combat my fear of the dentist by brushing my teeth and flossing regularly. My hope was that by brushing and flossing twice a day, I would have good news at my dentist appointments. This leads my to my last appointment…
My nine year old son and I had our appointments back to back. As a mom, I am constantly saying those words, "Son, did you brush your teeth?" As we sat in the waiting room, I was giving him the mom talk about how important it is to brush your teeth and have good oral hygiene. We went in the back and each of us had our teeth cleaned and the dental hygienist gave him a lecture taking his time brushing his teeth and making sure to reach all of the surfaces. She left the room and said the dentist would be in to check our teeth and review our x-rays. As he walked in he asked, "Do you want the good news or the bad news first?" My first thought was that my son had cavities and that I was a terrible mom for not being more on top of his oral hygiene. He said, "Your son's teeth look great and he won't need braces." My first thought was that we can use that money for a family vacation instead of braces but before I could think of somewhere to travel, he said, the bad news was that I needed a root canal and had three cavities. I made him repeat that.  He went on to say that the way my teeth are shaped makes them more prone to cavities and that I could benefit from using a Water Pik.
I am happy to say that I have started using the Water Pic Water Flosser and Sonic Toothbrush and that my son is now using the Water Pic Water Flosser for Kids! The great fact about the water flosser is that it is clinically proven to be 50% more effective that traditional dental floss but even more important than that is the fact that my son loves using the one for kids. I hardly ever have to remind him to brush his teeth and floss because he's asking me if he can brush his teeth and use his Water Pic water flosser! It makes it worth its weight in gold just for that! I am hoping for a better check-up because the superior combination of Water Flossing and Sonic Brushing removes bacteria deep between teeth and below the gumline where brushing and traditional flossing can't reach.
Here is the GREAT NEWS! Water Pik Oral Health is giving away a $10 coupon on their Facebook Page for the Kid's Water Flosser.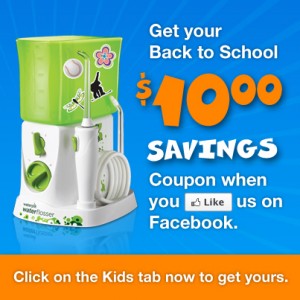 Disclosure: I received both products mentioned in order to facilitate this review. As always, all opinions expressed are 100% my own. 

Follow @NolaTricia