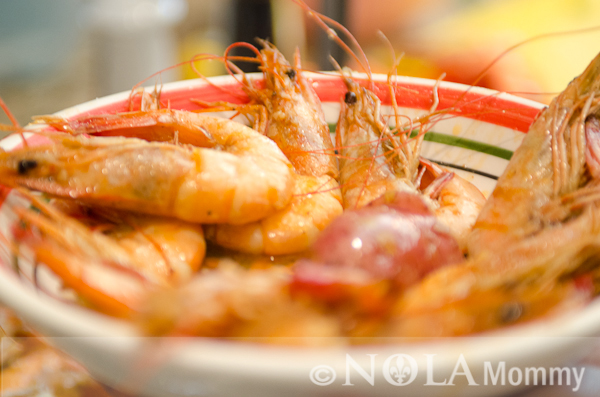 It is shrimp season in Louisiana and I was given the task by the Louisiana Seafood Promotion and Marketing Board to come up with a recipe for beautiful shrimp caught straight out of Louisiana waters. They were caught by Lance Nacio of Anna Marie Shrimp, frozen right on the boat, and shipped to my front door. It doesn't get any fresher than that! You can find a Louisiana Shrimper too. Just go to Louisiana Direct Seafood and connect with a shrimper that will ship them fresh to your front door.  Also, through the LaTer Direct Seafood can find other types of Louisiana Seafood.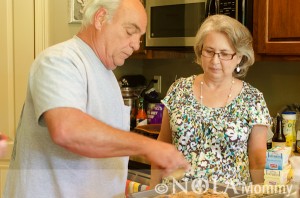 When they arrived, I started to stress about how I could cook them and not mess them up! The last thing I wanted to do was waste these gorgeous shrimp on a experimental recipe so I called in some experts. My mother-in-law was born and raised in Cajun Country. Her dad was a fisherman, shrimper, and owner of a seafood processing plant. She knows her seafood. Then there is my father-in-law who comes behind her and spices everything up a little when she's not looking. He's got a few cooking championships of his own and they make a great team in the kitchen. After discussing our options, we decided on making Barbecue Shrimp.
Even though the name BBQ Shrimp suggests that you put them on the grill and coat them with your favorite BBQ Sauce that is NOT the case. I'm not sure where the name came from but they never touch a BBQ pit. This is a classic New Orleans dish that can be found on most menus around the city. What you do need to know is that if you're a BBQ shrimp rookie this dish is not for the dainty. The shrimp are served in their shells bathed in a decadent butter sauce and can be messy which makes cooking them at home such a great option!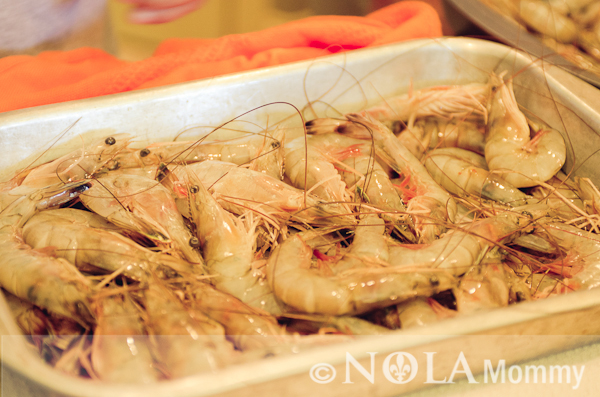 I am going to relay exactly what my "experts" did but bear in mind that they, unlike me, don't follow a recipe. This recipe was passed down from my mother-in-law's mother and as I tried to follow along and measure out what they were doing it was always words like, "a little of that," or "pour it on until it looks right." I managed to slow them down a little and come up with pretty close measurements for everything. What makes this recipe unique when compared to other BBQ Shrimp recipes is the addition of boiled red potatoes that really soak up the flavor of the sauce and bring a nice texture to the dish.
If you're new to cooking shrimp then go to the Louisiana Seafood's Shrimp Handbook and you can find all the information you ever wanted to know about Louisiana Shrimp. It includes info on the species, how to eat them, what to look for in fresh shrimp, and some great ideas for preparing them.
A classic New Orleans dish! This decadent sauce is perfect for dipping with French bread.
Ingredients
3 lbs Fresh, Louisiana Shrimp (Leave them in the shells)
2 - 3 TBS Creole Seasoning
1 - 2 TBS Lemon Pepper
1 Onion (sliced)
2 TBS minced garlic
2 whole lemons
¼ cup Worcestershire Sauce
1½ sticks butter (cut into ½" pieces)
1 tsp black pepper
¼ tsp salt
1 lb red potatoes *optional*
French Bread for dipping *optional*
Instructions
Place the unpeeled shrimp in a large pan for baking. Preheat oven to 400 degrees Fahrenheit.
Top with Creole Seasoning, Lemon Pepper, Pepper, Salt, minced garlic, and Worcestershire sauce.
Squeeze the Lemon Juice of 1 lemon on top and place slices of the other lemon on top of the shrimp. Also place the onion slices on top.
Cut the red potatoes in fourths and boil on top the stove.
Place the pieces of butter on top and bake for 30-35 minutes until no longer pink, stirring occasionally.
If using the red potatoes, drain them and add them to the shrimp with about 10 minutes left in the baking process.
To learn more about Louisiana Seafood and stay updated on the latest news and events you can follow:


Follow @NolaTricia