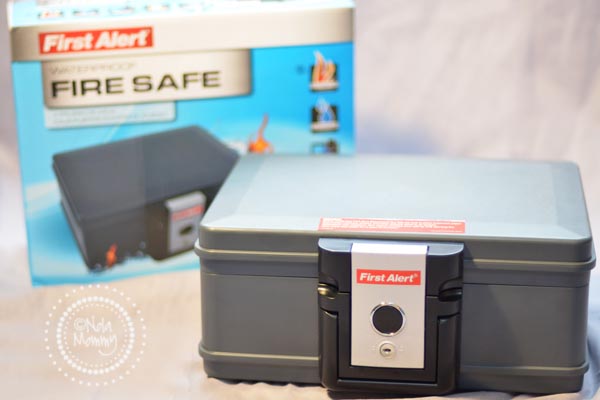 Take a second to think if your valuables are protected from fire, burglary, or even flood? Consider that every 14 seconds a home is burglarized, every year 380,000 homes experience a residential fire, and over 2 billion dollars are spent repairing homes affected by flooding. It's no wonder we have a lot to stress about. But did you realize that by adding a residential safe to your home you have the potential to save some of your valuables from disaster. Now available, at Target Stores, First Alert Safes can offer you a little peace of mind that your valuables will be safe if disaster strikes.
I am thrilled to be giving one lucky Nola Mommy reader a First Alert 2013F Fire and Water Chest
 for their home. It's .17 cubic feet, fire resistant for 30 minutes up to 1550 degrees Fahrenheit, and waterproof even when submerged.  It the perfect size for important letter size documents, small valuables, and media such as CD's, DVD's, and hard drives. It's a great quality safe and hearing that it was waterproof is what really caught my attention. Here in South Louisiana, flooding is always a concern and its great to know that my belongings will be safe from possible water damage. Take the old and true advice and  "Hope for the Best while Preparing for the Worst."
Here are some quick tips to consider if you're in the market for a residential safe:
 ·

         

Storage capacity

 – Think about both current and future needs and choose a safe that is large enough to hold a lifetime of valuables.
·         Fire resistance – According to recent nationwide survey conducted by First Alert, fire protection is the number one reason people purchase a safe, cited by 62 percent of Americans. To ensure the survival of your valuables, look for a safe that is proven to withstand extreme external temperatures. First Alert safes, for instance, will protect contents from temperatures up to 1700 degrees Fahrenheit (F) while maintaining an internal temperature of less than 350 degrees F.
·         Water protection – With the recent rise in flooding incidents across the country, water protection has become an increasingly important feature in safes. In fact, this feature ranked second most important (behind fire protection) among respondents to the First Alert safes survey. When shopping, keep in mind that many safes are merely water resistant as opposed to waterproof. To ensure your belongings stay safe and dry, confirm that the safe you choose is tested to be waterproof even when fully submerged.
·         Concealed hinges – Exposed hinges on a safe are a virtual invitation for thieves – or even curious kids. For the best protection, look for safes with concealed, pry-resistant hinges.
·         Bolt-down option – Many safes come with tools that enable you to anchor the safe to the floor. However, in some cases, doing this can void the manufacturer's warranty.  Be sure to double check warranty requirementsbefore buying.
·         Override key – If you are purchasing a safe with a digital keypad or combination lock, make sure it comes with an emergency override key, just in case.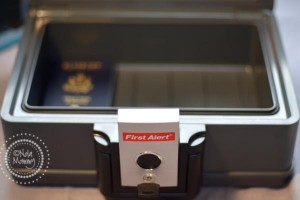 To Enter to win a First Alert Waterproof Fire Safe: (Mandatory Entry):
Leave a comment telling me one FUN thing you have planned this summer.
For Additional Entries: (Please leave an additional comment for each):
1) Follow @FirstAlert on Twitter
2) Follow @NolaTricia on Twitter
3) Subscribe to Nola Mommy via RSS Reader or E-mail
4) Tweet about this Giveaway:
WIN a @FirstAlert Waterproof Fire Safe to protect your valuables! http://bit.ly/NLUaz5 @NolaTricia #giveaway #safety
Giveaway Ends 6/29/2012 at 9pm CST. Prize will be shipped by giveaway sponsor. Must be 18 years old or older to enter. Open to U.S. Residents only. Winner will be selected using the …And the Winner is WordPress Plugin. Disclosure: I was given a First Alert Safe in order to facilitate this review. As always, all opinions are 100% my own!  

Follow @NolaTricia