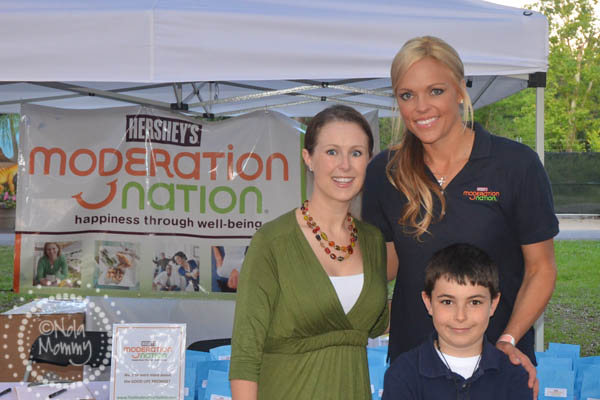 I know what you're thinking, Hershey's and Moderation are not two words that you would normally put together. When it comes to their milky, sweet chocolate I tend to live by the philosophy of "Just one more won't hurt." But the truth is that balance is a key element to being healthy and happy. The goal of Hershey's Moderation Nation is to empower you with the tips and tools needed to live a balanced lifestyle and to offer resources to help you find happiness through well-being. We can all have our chocolate, and eat it too, just in moderation.
At the Audubon Zoo's annual Zoo-To-Do for Kids, I was honored to meet Olympic Gold Medalist and Hershey's Moderation Nation Family Activity Guru, Jennie Finch. TIME magazine called her the most recognizable softball player in history after she helped the United States secure a gold medal in the 2004 summer games and bring home the silver in 2008. As an athlete and a mom, she understands the unique challenge of finding family activities that promote wellness. Even though she's not training in a  gym a few hours a day, she is still finding ways to incorporate exercise into her day while playing with her kids. She takes advantage of a good game of tag or jumping on a trampoline as a great way to sneak in exercise. Also, after spending time in Louisiana, she knows how difficult it can be to practice moderation when the local food is so rich and delicious.
With the 2012 Olympic Games in London right around the corner, I asked Jennie about  her favorite Olympic moment. Outside of standing on the medal stand, she said it was representing the United States and being a part of Olympic Village where she was able to  interact with other athletes from around the world and from various sports. Finally, her advice to young athletes was to be the best YOU. No matter what sport or activity they are involved in, it's important to focus on being the best that they can be and not compare themselves to others. It's also important to identify weaknesses and work to make them your strengths.
Make sure to check out the Moderation Nation and all of the Gurus for great resources and tips on staying balanced and enjoying moderation. You'll find great recipe ideas, tips for balanced eating that includes an article on starting a food journal, tips on family activities, and much much more! Find them on the web and like them on Facebook:

Follow @NolaTricia