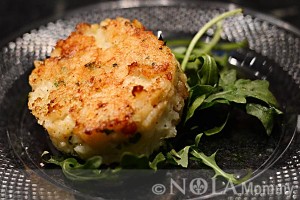 Last week I had the opportunity to attend the Seafood at Sunset event hosted by Sea Best Seafood. The evening included cooking demonstrations with Chef Brian and dining on recipes prepared with Sea Best seafood. Being a New Orleanian, I was initially a skeptic. We are spoiled to have fresh seafood at our doorstep. Honestly, prior to this event, the only frozen seafood I've cooked has been fish that my husband and I have caught and stored in the freezer. It's not something that I would have added to our grocery list. But with the addition of the new baby and life getting more and more hectic our time on the water has dwindled and so has our seafood intake.  After trying the three recipes cooked by Chef Brian I am excited to be adding a few more seafood recipes to my family's dinners.
The first dish was Rice Fish Cakes. Think crab cakes without the breadcrumbs and well, no crab either. They were delicious. This was probably my favorite dish we had and can be made ahead and frozen for a later date. They can be made with flounder. Second we dined on Ahi Tuna Salad Melt Sandwiches and frozen grapes. This tuna salad put canned tuna to shame. It was delicious and pairs perfectly with a side of frozen grapes. Finally, we had Walk the Plank Stew. The concept behind this meal is to have your kids help make the veggies walk the plank (chopping board) into the stew. Such a cute idea! To make it even more kid friendly it was served with goldfish crackers on top.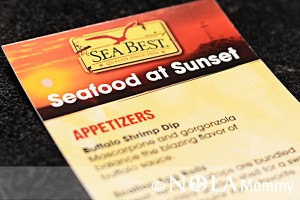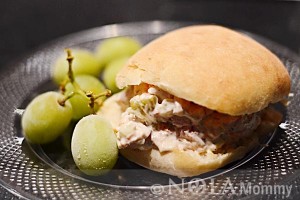 The Sea Best company has been providing quality seafood since 1979 and even though they have grown to be one of the biggest seafood suppliers in the world, their focus remains of providing a high quality product that can be enjoyed all year. I really liked their emphasis on quality and finding the best places for various seafood products which gives people who don't have a certain type of seafood in their native waters the ability to enjoy it all year long. They really opened my eyes to the freshness and quality control practices that go into their products and I plan on incorporating more seafood into my family's meals. Go to Sea Best's website to learn more about them and there you will find more delicious recipes by Chef Brain!

Rice Fish Cakes with Lemon
Ingredients
2 cups chicken stock or water
1 cup long grain white rice
¾ teaspoon salt, divided
3 Sea Best Arrowtooth Flounder Fillets, thawed and diced
Zest of 3 lemons
2 tablespoons parsley
¾ cup parmigiano-reggiano cheese, finely grated
½ teaspoon cracked pepper
Oil for sautéing (or bacon fat if you have some on hand)
Optional
1 package arugula (as a bed for fish cakes)
Vinaigrette (to toss with arugula)
Fried eggs (to top fish cakes)
Instructions
Cook rice according to package directions with chicken stock and ½ teaspoon salt.
When rice has finished cooking and is still hot, pour into large bowl and add lemon zest, parsley, fish, remaining ¼ teaspoon of salt, pepper and cheese.
Stir rice well with a rubber spatula.
When mixture starts to become sticky, divide mixture evenly and press firmly into a 3-inch biscuit cutter mold.
Once cakes are molded, heat ¼ inch of oil or bacon fat in a cast iron pan; cook on medium to medium-high heat for 2-3 minutes on each side (or until golden).
Serve over a bed of arugula tossed in a light vinaigrette; if desired, top with a fried egg and grated parmigiano-reggiano cheese.
Notes
Shared with permission.

Follow @NolaTricia