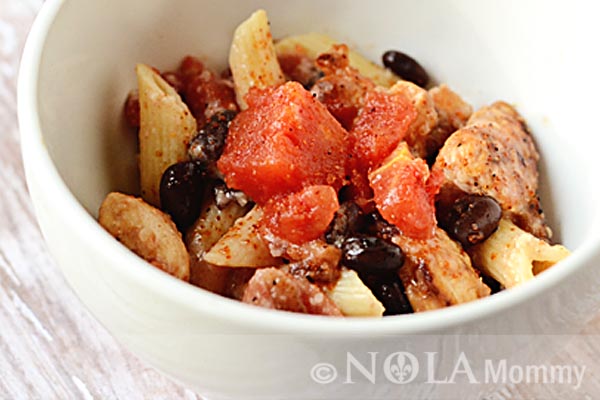 Today, I am thrilled to exchanging recipes with Savannah of Hammock Tracks. Savannah is a homeschooling mom to 4 kids. Her family enjoys the outdoors, fishing, hunting, and just spending time together. On her blog Hammock Tracks, she shares delicious recipes that are really family friendly. When looking through her recipes and their great photos,  I had a really hard time choosing just one to share here. My husband, son, and I printed out a few that we are going to try but the Cajun Alfredo Pasta recipe stuck out because my husband loves alfredo sauce and this recipe combines one of his favorite foods with a Cajun twist!
:
Savannah from www.HammockTracks.com
The original recipe calls for pork but I substituted it for chicken because that is what I had on hand and it was delicious! Make it with either pork or chicken for a family friendly meal.
Ingredients
1 lb. mostaccioli rigati pasta, cooked but firm
1 15 oz can petite stewed tomatoes
1 15 oz can black beans
1½ lb cubed pork, I used loin. (I substituted chicken)
1½ teaspoon cajun seasoning, use less if you don't like it hot
Alfredo Sauce:
¼ cup butter
1 cup whole milk
2 clove garlic, crushed
1½ cups freshly grated Parmesan cheese
¼ cup chopped fresh parsley
Instructions
Sprinkle the pork (or chicken) with the cajun seasoning, and if you have time let it sit for a few hours to absorb the flavoring. If not, go ahead and brown and sauté the meat in a skillet, until thoroughly cooked. While it cooks melt butter in another skillet. Pour milk into butter and allow to simmer for about five minutes. After simmering add garlic, parmesan cheese and parsley. Stir over heat for about two minutes, to allow the flavors to mix. Remove from heat. Combine pasta, pork (or chicken), beans and tomatoes in a pot. I like to use the pot that the pasta was cooked in, as it is warm. Pour alfredo sauce over all, stir and serve.
Notes
Visit www.hammocktracks.com for more recipes!

Follow @NolaTricia