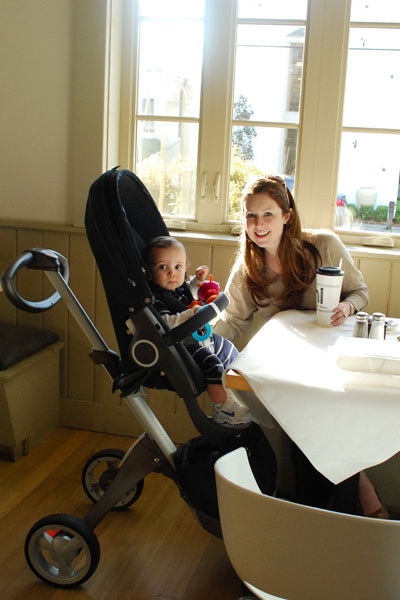 In addition to earning lots of style points, the Stokke Xplory stroller system receives the highest possible marks in the category of function. There is a reason so many celebrity moms are seen pushing their children in a Stokke Xplory.
If I had to choose one word to describe the Stokke Xplory it would be: INTERACTION! The design of the Xplory makes it possible for you to easily interact with your child and gives them the opportunity to interact with the world around them. Gone are the days of bending or kneeling down to talk to, interact with, or assist your child. You have the option to position your child facing you to increase bonding, security and interaction or face them away and let them explore the world around them. Either way, they will view everything from a vantage point that doesn't include the back of stranger's knees.
Another very important feature of the Stokke Xplory is the emphasis placed on your child's COMFORT. The soft, padded seat provides your child with a very comfortable ride without any sharp edges or corners. The multiple seat positions include a position for sleep, activity, and rest. For smaller children there is an extra padded insert that gives support to tiny backs and is removable when your child needs extra room. The ergonomically designed, adjustable footrest prevents your child's feet from dangling and contributes to increasing their comfort. Try sitting for a long period of time with dangling feet. Your legs will start to feel heavy and unsupported. Your child seated without an appropriate foot rest will feel the same way. Ergonomic describes the technology concerned with the design of a product to be safe, healthy, and comfortable for human beings. That is an ideal way to describe the Stokke brand as a whole. Everything is designed with you and your child's safety and comfort in mind!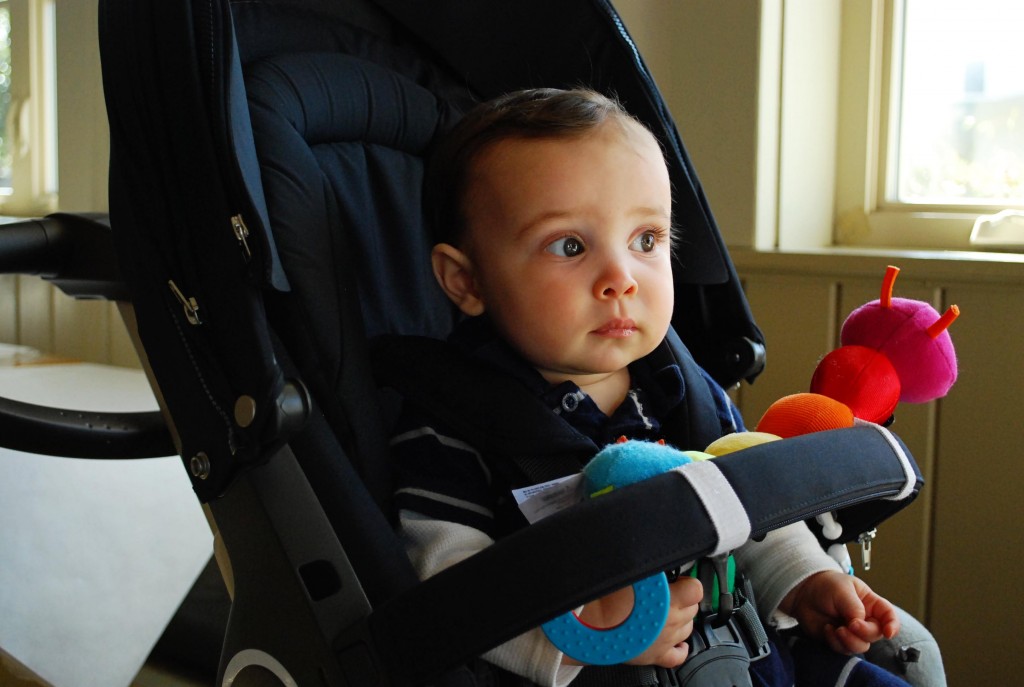 The reaction, in my community, to the Stokke Xplory has been overwhelming! We have not gone anywhere without multiple people inquiring about the design of the Stokke Xplory and where they can get their own. The most common comment that I get is, "I love how high he is because he can see what is going on." I have had moms, moms-to-be, dads, dads-to-be and grandparents ask questions about this stroller. With one glance it is obvious that the Stokke Xplory is unique and provides a whole new level of interaction than traditional strollers on the market. It is without a doubt, my FAVOFRITE piece of baby gear in my collection.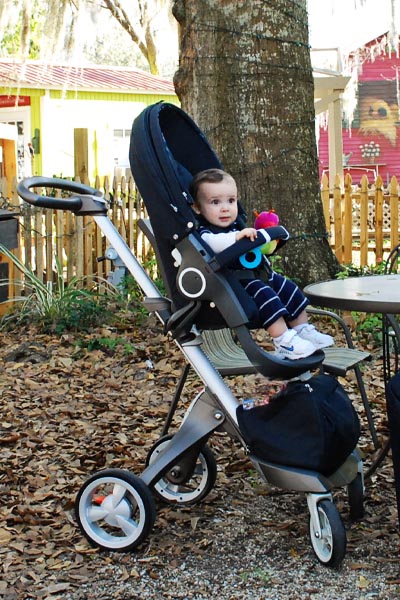 One of the great ways we use the Stokke Xplory is as a high chair in restaurants. We were at a very nice Italian restaurant right outside of New Orleans and used the Xplory as a highchair. It's very easy to adjust the seat height to the perfect height of the table and our son was really enjoying being a part of the family at the table. The owner of the restaurant kept walking through the dining area and kept eyeing the Xplory. I got a little nervous that he would have preferred us to use their standard issue high chair. Thankfully, I was wrong. He came up to the table, introduced himself, made sure the food was delicious, and then pulled out a pen and paper and wanted to know where he could purchase a stroller like ours so his grandkids could eat and be a part of family dinners in their own Stokke Xplory. This is just one story of many where people have gravitated to and wanted more information about this stroller.
If you are interested in purchasing a Stokke Xplory but have sticker shock let me share with you what mistake I made with my first son. I bought a newborn system then I bought multiple strollers that lacked quality and had to be replaced on a regular basis. If I added up everything I spent, I would have had enough to purchase a Stokke Xplory and would have been able to use it the entire time. He would have been much more comfortable and not constantly tugging on me to pick him up so that he could see! Another tip is to invest in the products that you will use the longest and face the most wear and tear such as your stroller system. A high quality stroller such as the Stokke Xplory will last and is easy to clean.
If you are in the New Orleans area you can purchase a Stokke Xplory at Zuka Baby a Natural Parenting Boutique. Not just a retail store, Zuka Baby is a building point for a community that wants more; more local, natural, unique, affordable options for our families. They are focused on educating the community about choices as modern parents in economically and environmentally difficult times!
For more information on you can find Stokke on the web at these locations:
Disclosure: I was given a Stokke Xplory to facilitate this review. As always, all opinions are 100% my own.

Follow @NolaTricia