I was excited when my son came home from school saying he had to build a Shoebox Mardi Gras Float. Then when we told my husband, he started telling us about his shoebox floats as a kid and Twitter friends shared their shoebox float ideas with me.
I guess these are a Nola tradition!
(Mine always came complete with Barbie doll queens.)
Because he's studying Greek mythology, we had to make it themed for something they were studying and we chose Poseidon.
We had a great time helping him build his float and making his ideas a reality. I had to draw the line at making it remote controlled and with working lights.
(Oh, the minds of little boys!)
Happy Wordless Wednesday and
Thank you for linking up at Nola Mommy.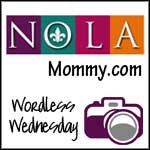 Follow @NolaTricia