The ideal cleaning products are powerful cleaners while being safe around my family. Here is a true, somewhat embarrassing story but I'm going to share it anyway. I was 12 or so weeks pregnant with my last son and decided that I was going to clean the master bath tub's jets with a pretty strong cleaner that had a harsh smell. I filled the tub, added the cleaner and turned on the jets. I looked down and thought that it needed a little more water and turned on the faucet. At this point the phone rings. I walk out of the bathroom and when I go to walk back by the doorway of the bathroom the  smell of the chemical is strong and my pregnant nose and stomach didn't agree with it so I walked out because I didn't want to expose myself to the strong chemical and aggravate my already aggravated morning sickness.
Do you see where this is going?
Yes, I decided after a long 45 minutes or so that it was time to turn the jets in the tub off but when I stepped in my master bedroom my first thought was that the dog did something on the carpet. When I stepped back there was an outline of my foot in water and the carpet was soggy. I had flooded the entire master bathroom, master closet, and over half of the master bedroom. My husband was out of town and when I called him, on his cell phone, he wasn't in a great service area and caught every other word of a conversation that started with "flood" and ended with "homeowner's insurance premium" before the phone died completely.
Had I not used a potent, harsh chemical to clean the jets, it wouldn't have set off my sensitive sense of smell and I wouldn't have walked out of the bathroom with the faucet pouring everywhere. That's my story and I'm sticking to it, which leads me to the Green Works line of products by Clorox. They are powerful, yet natural, don't contain harsh fumes and don't leave a residue!
Thankfully, I had the opportunity to try Green Works all-purpose cleaner, cleaning wipes, laundry detergent, and bathroom cleaner and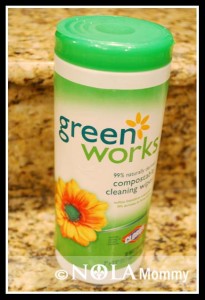 I am in love with the entire product line. They all have a fresh and clean smell without smelling "chemically." I'm not sure if that's a word but if you've ever smelled cleaning products that knock you away with a strong chemical smell then you know what I mean. None of these products have that. I really liked the cleaning wipes because they have a great, clean smell that have a hint of citrus and don't leave a residue on the counters. They are also 100% compostable! My second favorite product is the all purpose cleaner because it's great to keep on hand for almost any surface including counters, appliances, stainless steel, sealed granite, chrome, cook-top stoves, and sinks. Personally, I have had a really hard time trying to find something that cleaned my stainless refrigerator without leaving streaks and I was really impressed with this product. I have bought everything on the market for stainless and have never found anything that I really liked until I tried an All-Purpose Cleaner, go figure! The bathroom cleaner is a is a non-toxic way to power through soap scum, rust and hard water stains — without harsh chemical fumes and residue.  Here a few reasons that Green Works is different than traditional cleaners:
Are made with plant- and mineral-based cleaning ingredients.

Come from biodegradable ingredients that are naturally derived

Are not tested on animals.

Use environmentally sustainable packaging whenever possible.

Are acknowledged by the EPA's Design for the Environment program.

Disclosure: I received full-sized Green Works products in order to facilitate this review. As always, all opinions and embarrassing stories are 100% my own. 

Follow @NolaTricia