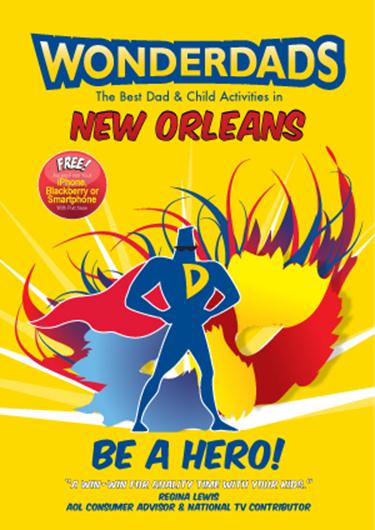 WonderDads has compiled a great resource guide geared for dads in New Orleans (and there are guides for other cities too!) to help them find activities, events, and restaurants that dad and kids can enjoy together! After having the opportunity to review the New Orleans WonderDads Guide, let me just throw out there that there are lots of great activities for moms too! I have always lived in the New Orleans area and there are activities in the guide that I didn't know about! My son and husband went through it and now we've got a list of things to see and do. I really like how it is broken down in sections with groups such as splurge activities and rainy day activities.
When you purchase a copy of the WonderDads guide to New Orleans you will also get access to the mobile edition. Since we all depend on our smartphones, this is a really great feature. When you're looking for a way to spend quality time with your kids you will have over 400 ideas at your fingertips. Here is some more information about the WonderDads book:
* WonderDads New Orleans includes over 400 entries, broken out by Best Dad/Child Activities, Best Dad/Child Parks & Outdoor Recreation, Best Dad/Child Restaurants, Best Dad/Child Stores, Best Dad/Child Sporting Events, and Best Dad/Child Unique Adventures.

* WonderDads New Orleans also includes special ideas for "Best Things to do On a Rainy Day," "When You Have the Kids for a Full Day," "The Best Splurges," "The Best Road Trips Under 1 Hour Away," and "The Most Memorable Dad/Child Events."

Click here to purchase your own copy of the WonderDads Guide to New Orleans!
Follow the WonderDads Blog for even more great Dad and kid activities!
Disclosure: I was given a copy of WonderDads New Orleans in order to facilitate this review. As always, all opinions are 100% my own!  

Follow @NolaTricia