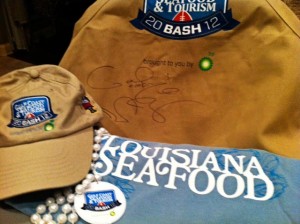 The Gulf Coast Coast Seafood and Tourism Bash 2012 was held last Friday night and I was delighted to attend! Everyone was given VIP treatment but the real star of the show was fresh Louisiana seafood. Thanks to a police escort, we were able to Dine and Dash around to three restaurants that each showcased Louisiana seafood in an unique way.
.
.
.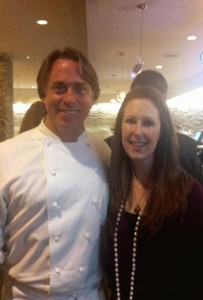 .
.
Our night began at Chef John Besh's and Chef Brian Landry's newest restaurant, Bourgne, located in the newlyrenovated Hyatt Regency by the Superdome! It's named for Lake Bourgne, a popular fishing spot for many in South Louisiana. We were served crabmeat croquetas, fried oysters amandine, seafood stuffed artichokes, marinated crab fingers, and duck poppers with jalapeno and bacon. It displayed Louisiana seafood at its finest! Bourgne is sure to be a hit with locals, visitors, and because it is so close to the Dome, it will make a perfect stop for a pre-game bite or a celebration drink and meal after the game! Chef Besh spoke about getting the word out that Louisiana seafood is safe and has endured more quality control testing than any seafood in the world. It was an honor to be able to talk with Chef Besh again and his passion for food and using fresh, local ingredients makes him a great ambassador for Gulf Coast Seafood!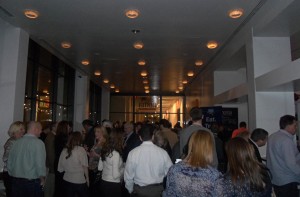 After a CRUNK bus ride that featured mostly all Saints and LSU music (except the playing of Sweet Home Alabama, once or twice), our second stop was Cafe NOMA, located in the New Orleans Museum of Art. It was there that Chris Blankenship, the Alabama Director of Marine Resources, addressed the crowd and made a point to thank all of the Louisianians that spend their time and money on the Alabama Gulf Coast! Second, Jay Dardenne, Louisiana Lt. Govenor, addressed the crowd and even joked about Alabama fans being "Tiger Bait!" In true Louisiana style he told a great Boudreaux and Thibodeaux joke and spoke about the people of Louisiana being passionate about food, family, fun & football! I loved talking to members of the media who cover sports all over the country and hearing them say how unique and dedicated Saints and LSU fans are. I even got to teach someone how to correctly do the "Who Dat Say 'dey gonna beat 'dem Saints?" chant. Who Dat!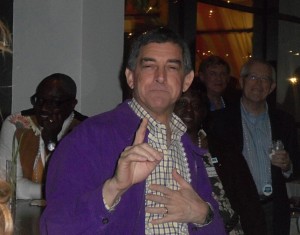 Lt. Governor Jay Dardenne thinks LSU is #1!
Lastly, when exiting the buses in front of Jax Brewery, we were greeted by a traditional brass band and second lined to Muriel's on the corner of Jackson Square. The food was wonderful and included seafood beignets, fried oysters, and crab cakes. Muriel's was the perfect ending to a great night. We enjoyed the balcony overlooking Jackson Square and the historic atmosphere inside Muriel's.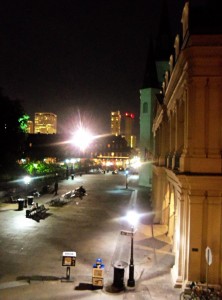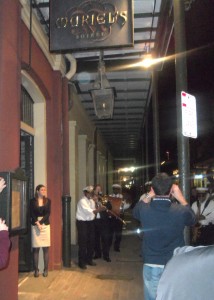 Here is a great video from the night by Chad Petri with WKRG in Pensacola and Mobile!
I am so excited about tonight's National Championship Game and hope that everyone who visits the city to attend the big game gets a chance to try Louisiana seafood and support our local fishermen!
GEAUX TIGERS! #1!!!
LSU Cupcakes
LSU Cupcakes (Part Deaux)
LSU Tailgating Fashion

Follow @NolaTricia