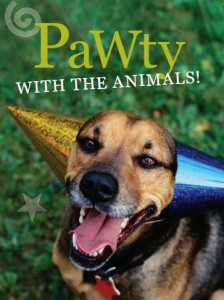 The Louisiana SPCA is hosting some really great programs for animal-loving youth in 2012! Celebrate your child's next birthday party at the Louisiana SPCA Animal Care and Rescue Center. Kids can have fun while learning about animals and participating in hand's on activities. Most importantly, your birthday party booking fee will help thousands of rescue animals in the care of the Louisiana SPCA. In addition to birthday parties, your child can enjoy a night at the movies at Critter Cinema and cozy up to kittens and puppies while enjoying G-rated critter movies, snacking on pizza and popcorn all while interacting with animal-loving kids! I know that my son would love either event. He's an animal lover and has proved himself to be very responsible when caring for our seven year old, dachshund, Bailey. He feeds her, makes sure she has water, lets her out, and spends time with her.  He's learned so much from being a dog owner and I know he would love to have dogs share in his birthday or show them a little needed affection while watching movies.
Here's a little more information about both events:
Birthday Pawties (For children 5 yrs. old and up)
Each Pawty includes: Click here for the Birthday Pawty Brochure
Private Pawty Room for Two Hours
Room Decorations
Birthday Bone Lanyard for Honoree
1 year La/SPCA Membership for Honoree
Educational Presentation
Tour of the LA/SPCA's Animal Rescue and Care Center
Puppy/Kitty Playtime
Choice of Two (2) Activities from the Activity List
Goody Bags for all Guests
A few possible activities include:
 Make your own dog bandana
Create "Adopt Me" signs for homeless animals
Decorate dog biscuits
Collar Toss
Pet Storytime
Make your own cat toy
Dog bone relay game
Make your own cat mask
Dog Rescue Obstacle Course
Customize your own picture frame
Make a dog or cat hand puppet
Make your own wearable pet ear
Critter Cinema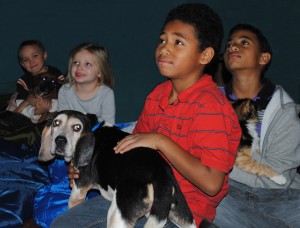 Second Friday Evening of the Month
6:30 – 9:30pm
For kids ages 5-10
Please bring sleeping bag and pillow (PJ's are welcome)
COST
$25 per participant*
Please note: LA/SPCA cuddle critters provided. Please leave others at home.
2012 DATES
January 13th, February 10th, March 19th, April 13th, May 11th, June 8th, July 13th, August 10th, September 14th, October 12th, November 9th, December 14th
For further information about either even, please call Stephanie at 504-762-3314
or email Stephanie@la-spca.org
Space is limited.


Follow @NolaTricia