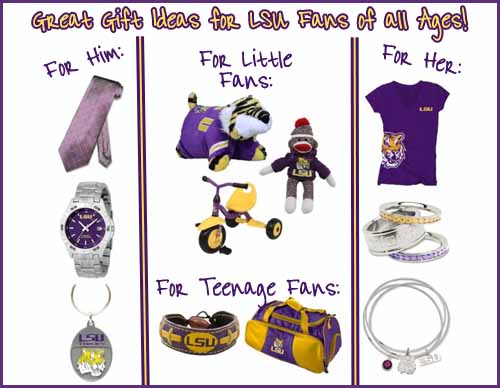 The LSU Tigers are the #1 college football team in the country and will take on #2 Alabama  in Louisiana Mercedes-Benz Superdome on January 9, 2012! Some people just don't get it! We beat Bama once and now we have to show-off and do it again!
Poor Mike the Tiger was hoping for fresh tiger bait, not the same ole' SEC kind! O'well!
Sorry to Oklahoma State! (Yes, you were robbed)
Anyway….. Even if you don't have over $1500 to spend on a single ticket,
(and that is for the nosebleed section)
you can still show your team pride with these great LSU themed gifts.
These are great gift ideas for LSU Fans on your list, even the little ones!
(Because it's never to early to introduce them to purple &  gold)
You can find all of these great items and more at Amazon.com.
Scroll until you find the product you are looking for and it will take you right to it.

Follow @NolaTricia