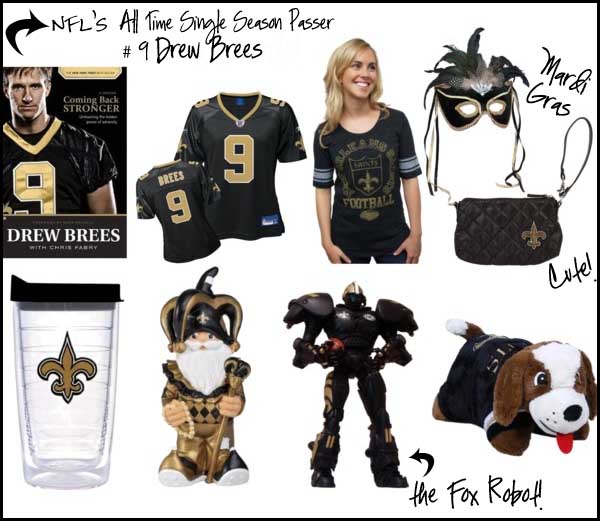 It's a great time to be a football fan in Louisiana. LSU is about to play for another National Championship and tonight, the New Orleans Saints defeated the Dirty Birds, Atlanta Falcons for the second time this season! It was great seeing the team win but even more special than beating our rival on Monday Night Football was watching Saint's quarterback Drew Brees surpass Dan Marino's record to become the NFL's All-Time Single Season Passing Leader with over 5,000 yards thrown. What Dan Marino accomplished in 16 games, Drew Brees did in only 15! That means, if he plays in game 16 vs. the Panthers, everything he throws for will be lagniappe in regards to the record! Congrats to the NFC South Division Champs and to #9 Drew Brees for earning a well-deserved place in history!
Because I was extremely anxious as the yards needed for Brees to reach the record were being counted down, 80, 30, 18, 7….. RECORD! I started searching for cute Saints items online and came up with a few of my faves!
If you haven't already read Drew Brees' book then read it! It's funny, sad, and shows his leadership and determination. The story about how he met his wife, makes for a perfect romantic comedy! It's not ALL about football.
The Fox Sports Robot is one of my favorite gift ideas for any little boy or big boy for that matter.
My son got it last year for Christmas and it is still one of his favorite toys.
He even does the dance with him where you run in place to the left, then to the right, and then jump in the center!
(I know…. I watch WAY to much football)
When I was pregnant, I carried my Tervis Tumbler everywhere and even though the Pillow Pet song really, really annoys me they are really cute and cuddly!
All of these items can be found on Amazon.com!

Follow @NolaTricia