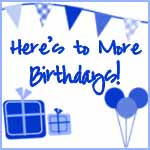 Here is to more birthdays! The day that you are celebrated for just being you! Think back to when you were a kid and you counted down the days until your special day and reminded everyone of that countdown repeatedly. Then leading up to your big day, there would be cards in the mailbox from grandmothers and aunts wishing you a wonderful day. (Oh, the days before a happy birthday wall post on Facebook!) Then at school, your classmates would sing, mom would bring cupcakes, and your teacher gave you a gigantic button that said, "Today is my Birthday!"
When did that stop? At what point do we bury our head and hope that our friends and co-workers don't make a fuss of our birthdays. We try to ignore the fact that we are another year older and mumble our age under our breath. That needs to STOP! Celebrate enthusiastically the day your were born. Celebrate another year with family and friends. Celebrate the fact that you are still here and cancer hasn't robbed you of your big day! Celebrate life! It's a precious gift and no one is guaranteed another… so celebrate, celebrate, and celebrate some more!
I am dedicating this post to those that have won their fight with cancer, those who went down fighting, and to the love ones who were there every step of the way. As a nurse, every patient that I have cared for battling cancer inspired me with their courage and strength!
Thanks to the American Cancer Society, more families are celebrating birthdays together!
Please watch this video to find out how:

 Disclosure: "This post is sponsored by American Cancer Society."

Follow @NolaTricia