Sweet Potato Casserole Recipe
Recipe for a Divine Sweet Potato Casserole! Supposedly Ruth's Chris Recipe.
Ingredients
Crust:
1 cup brown sugar
⅓ cup flour
1 cup chopped pecans
⅓ stick butter, melted
Combine above ingredients in mixing bowl and set aside
Sweet Potato Mixture
3 cups mashed sweet potatoes
1 cup sugar
½ teaspoon salt
1 teaspoon vanilla extract
2 eggs, well beaten
½ cup butter, melted
Instructions
Preheat oven to 350 degrees Fahrenheit.
Coat a medium sized casserole dish with non-stick cooking spray
Combine sweet potatoes, sugar, salt, vanilla, eggs, and butter in a large mixing bowl in the order listed above.
Beat thoroughly with a hand mixer to increase the fluffiness of the sweet potato mixture.
Pour mixture into the baking dish.
Bake for 30 minutes.
Sprinkle the surface of the sweet potato mixture evenly with the crust mixture and return to oven for 10 minutes. Allow to set at least 30 minutes before serving.
The brown sugar and pecan crust should be slightly brown and crunchy.
Notes
May refrigerate prior to applying the crust and complete recipe prior to serving.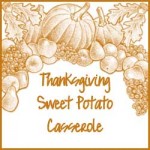 I am not sure who gave me this recipe because I have been making it for a few years, but it  is supposed to be the same recipe served in Ruth's Chris Steakhouse's. I have had both and they are very, very similar. I actually prefer these.
Happy Thanksgiving!


Follow @NolaTricia