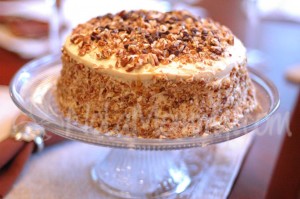 I made this as a request for a friend's birthday. I have been on a roll making cupcakes and this was the first cake I have made in a really, really long time. I agreed to try, but told her that if I failed miserably and was left with a tower of crumbs that I was making cupcakes. Thankfully, it came out great and although my cake decorating skills need improving, the taste made up for it. The contrast of sweet and salty with the crunch of the pecans make this a desert that I will make again. Oh, I forgot to mention that I coated the sides and top with crushed pecans and on top I added mini-chocolate chips and drizzled it with caramel. Now that I am typing this it wants me want to bake one just for me!
Caramel Pecan Chocolate Cake a.k.a Heaven on a Plate
Moist Chocolate cake with a Caramel Buttercream and coated with crushed pecans.
Ingredients
1 package devil's food cake mix (I prefer Duncan Hines Premium cake mix)
1 (5.9 oz) package instant chocolate pudding mix
1¼ cup water
1 tsp pure vanilla extract
⅓ cup vegetable oil
½ cup sour cream
3 whole eggs
1 egg white
Instructions
Preheat oven to 350 degrees Fahrenheit for metal and glass pans or 325 degrees Fahrenheit for dark or coated pans.
Coat bottom of pans with non-stick cooking spray or shortening coated with flour. (this is where I say a little prayer that everything comes out all right) or use baking cups for cupcakes
Stir powdered cake mix to prevent lumps in your batter.
Blend cake mix, water, oil, sour cream, vanilla extract, and eggs at a low speed until moistened (Note: Beat your eggs together prior to adding them to your batter)
Pour batter evenly into your baking pans. (If you are making cupcakes, these do tend to rise so adjust your fill amount accordingly. I use an ice cream scoop and fill mine a little less than ½)
Bake: 2 - 8" pans = 33-36 minutes, 2 - 9' pans = 28-31minutes, 13'x9' = 32-35 minutes, Bundt = 38-43 minutes, 24 cupcakes = 18-21 minutes
Check your baking times to your own oven. I know that my oven is usually 1-3 minutes less than one is listed above. For 24 cupcakes I bake them 16-17 minutes. Chocolate does seem to take a minute or two longer than other cakes.
Decorate with crushed pecans, chocolate chips, and drizzle with caramel.
Notes
Caramel Butter-cream: 2 sticks of butter (softened to room temperature) 2 tsp pure vanilla extract ¼ teaspoon salt 1 lb of powdered sugar ½ cup caramel sauce (I use Smuckers or Hershey's ice cream topping) Mix the butter, extract and salt until creamy, add powdered sugar until you get a thick consistency and then add the following. Add additional powdered sugar or caramel sauce to get the smooth consistency that you desire.

Follow @NolaTricia