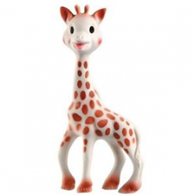 Okay, over the last three days at least three moms have recommended the Sophie the Giraffe teether for my 5 month old son. Currently, he is a drool monster with swollen gums! As soon as fellow moms eye his drool soaked bib they recommend this giraffe. One mom was behind me in a clothing store and had her son who was a tad older than mine and he was chewing away on his giraffe. I think I saw my little guy eye that little guy's giraffe and then give me a, "Where's mine, Mom?" look, but I can't be sure. Then I stopped at our Smoothie Shop and again someone brought up the giraffe!
So I came home and Googled Sophie the giraffe. I would be lying if I said the price didn't catch me off guard, but I figure it wouldn't be so popular if there wasn't something to this thing, right? Or is it just trendy to have your drooling, cranky, teething child toting around a giraffe? Well…. I caved. Yes, I ordered my little fella' his own giraffe.
Update: I still haven't cracked the Sophie code, I can tell you that my son LOVES his Sophie the giraffe. As soon as he got it, the giraffe when straight to his mouth and he started biting on it. He will play with it for the longest time and it does seem to be helping him teeth. It's unique shape makes it easy for him to hold. The only issue we have is that our dachshund is under the impression that any toy that contains a squeaker belongs to her so when the little one is squeaking his giraffe the dog thinks she has a new toy. Just the other day, the son was biting  on and making Sophie the giraffe squeak while the dog was squeaking one of her toys. It was truly a You Tube moment.
Born in 1961, Sophie's success is legendary in France. Soft, light and easy to grasp, Sophie the Giraffe is perfect for little hands and makes a happy sound when squeezed. Babies especially love her bumpy head to sooth their teething gums. Sophie is 7″ tall, and is sure to become your baby's favorite toy.

Phthalate, PVC, Lead and BPA free.

Hand made in the French Alps with 100% natural rubber and non-toxic food paint.

Her squeaker keeps baby amused, stimulates hearing, and helps him to understand the link between cause and effect.

Sophie the Giraffe is very flexible and has lots of parts for baby to chew (ears, horns, legs). She is perfect for soothing baby's sore gums when teething and is completely safe. Made of 100% natural rubber and food paint.


Follow @NolaTricia