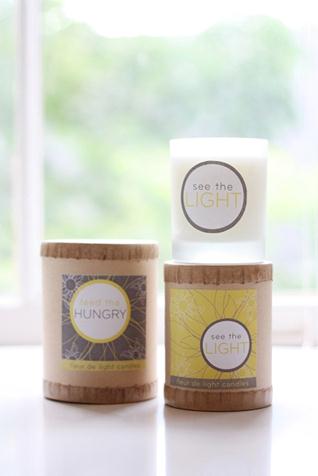 For many in South Louisiana, hunger is a reality. The See the Light, Feed the Hungry candle is dedicated to eliminating hunger in the New Orleans area. For each candle sold, Little Miss Muffin located in Metairie, LA and Fleur de Candle will donate to the Second Harvest Food Bank of New Orleans and Acadiana. They will provide two meals to a family of four. The facts about hunger are staggering. Across America, 49 million are at risk for hunger and that statistic includes 1 in 6 children. Each and every contribution can make a difference. Candles make the perfect gift for a friend or your child's teacher. Maybe just purchase one for yourself and make your home smell like the rich and indulgent flavors included in this collection. Most importantly, know that your purchase helped feed an entire family.
Here are the scents available in the See the Light, Feed the Hungry Candles:
.
Cafe Au Lait: The essence of New Orleans, this heady fragrance blends strong Creole coffee with roasted chicory root and sweet creamy vanilla.
French Market: This heavenly floral combines magnolia, gardenia, tuberose, and iris for a singular experience.
King Cake: Laissez les bon temps rouler with this sweet reminder of Mardi Gras Day featuring cinnamon swirls and colored sugar icing.
Fig: Ripe figs warmed under a summer sky combine with delicate green florals and woodsy accents in this sensuous fragrance.
Cranberry Chutney: Tart and refreshing crushed red cranberries combined with green apples and wild berries.
Pomegranate Sage: Juicy pomegranates combine with botanical sage, earthy greens, and tropical florals to create and enchanting aroma.
Go to Little Miss Muffin and order your See the Light, Feed the Hungry candle today!

You still have two more Wednesdays (10/26/11 & 11/02/11) to be a part of Harvest the Music concert series located in Lafayette Square benefitting the Second Harvest Food Bank!

Follow @NolaTricia