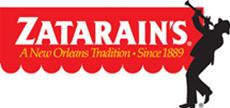 Zatarain's, a New Orleans tradition since 1889, wants to know your tailgating style. What tailgating recipes do you make for your friends and family? Enter a photo of your favorite tailgating meal via Zatarain's Facebook page and you could be entered to win a Gameday Gift Box full of Zatarain's products and get tips and recipes from Jazzman! In addition to entering Zatarain's photo contest, the Zatarain's Facebook page has tailgating tips and recipes. If that wasn't enough to get you interested, this is! They have teamed up with the world renowned, New Orleans original Chef John Besh! Watch videos of him sharing recipes incorporating Zatarain's in great dishes that will truly wow your guests. There are printable versions of the recipes too!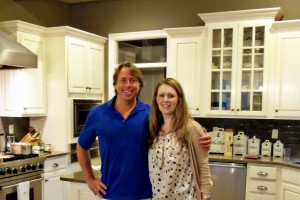 Thanks to Zatarain's, I had the opportunity to meet Chef John Besh and find out a little more about him, his outlook on food (especially New Orleans cuisine), tailgating, and even Saints football. We discussed Hurricane Katrina and how it has changed his outlook on many things. I have to agree, there is something about watching your hometown destruct in front of your eyes and living through such uncertainty that makes you look at things differently. He spoke about finding ways in which he could contribute to the rebuilding of New Orleans. Six years later, he is the owner of six restaurants (August, Besh Steak, Lüke, La Provence, American Sector, and Domenica) and each uniquely celebrate the region. In cooperation with Zatarain's, he is sharing New Orleans cuisine with families everywhere! Many who have never had the opportunity to try meals such as jambalaya, red beans and rice, and gumbo. Not everyone can master the tedious process of making a roux, but anyone can open a box of Zatarain's and incorporate it in a wonderful, healthy meal for their entire family. Also, as a former Marine, he has worked to create high quality ready-to-eat meals for distribution to thousands of emergency response teams and sustained strategic operations in the U.S. and around the world. Through this project he shares the tastes of the Gulf Coast including Louisiana while benefitting the local economy. Being a dad to all boys he mentioned ways he uses to get his sons to try new foods. For example, when creating a pasta dish, put out various ingredients and let your kids add what they like.
Chef Besh has a passion for sharing local, fresh, home-made meals that bring families around the dinner table. He was extremely kind and heartfelt about his passion for food, family, and for our city! Coming this November, his latest cookbook, My Family Table: A Passionate Plea for Home Cooking will be hitting bookshelves everywhere. It provides ways in which families can put fresh, healthy meals on the table. We also talked about how, in general, everyone's lives are busy and children's schedules can be very hectic.  Unfortunately, time spent around the table is being sacrificed for quick, on the run processed food. I had the opportunity to flip through My Family Table and I can't wait for its release. I plan to use recipes from it to prepare a Sunday afternoon dinner with my family. Growing up, every Sunday it was mandatory to go to Grandma's for dinner and everyone sat at the table. We talked, laughed, and did it all again the following week. I hope to use recipes from Chef Besh's latest cookbook to rekindle that tradition.
You can learn more about Zatarain's on the web at:

Learn more about Chef John Besh, his restaraunts, and cookbooks on the web at:

Disclosure: Thank you to Zatarain's for giving myself and other Mom Bloggers the opportunity to meet and interview Chef Besh. I was not compensated for my time and as always all opinions are 100% my own!

Follow @NolaTricia