My husband came home today and told me, "Thank you, I really needed that today." My first thought was: Do I just say you're welcome and possibly be taking credit for someone else's good deed or do I inquire? Of course, I asked what he was talking about. Apparently, he had a really stressful, busy day at work and in walked his secretary with a card that I had mailed to the office. With the help of my 8 year old son, we personalized a greeting card from Cardstore.com
. It included pictures of both of our boys and a note inside that said, "I know you've been really hectic at work but know that I appreciate what you do for our family and we love you always." He said that it couldn't have shown up at a better time and it was exactly the pick me up he needed. Things have been so crazy on my end that I forgot that on Monday my son and I sat at the computer laughing and joking about what pictures to include on a card for Dad. We eventually chose pictures of everyone in their LSU game-day gear and went from there. We added our personal message, uploaded our signatures, typed in his address and we were done! There was no searching for a stamp only to realize that I had to make my way down to the post office. Now I can add sending greeting cards to the list of things that I can accomplish online. It was sent straight from Cardstore.com
to him. The prices are extremely reasonable and actually cheaper than going to the nearby drugstore and purchasing a card and stamp. They have FREE shipping. Free shipping is always a major bonus!  He had the card on his desk and I had to call and remind him to bring it home for me to see it. The picture quality is excellent and so is the overall quality. I have already used them again for a birthday card, anniversary card, and will use them for our holiday cards as soon as our pictures are taken. Also, you can choose from many different designers including Taylor Swift. I am sure any little girl would love to have a birthday card designed by a country superstar!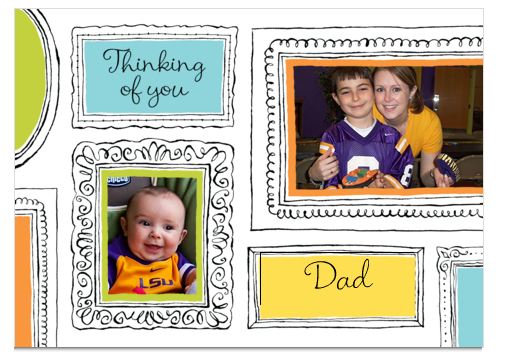 Take advantage of the Cardstore.com
Surprise Me Holiday Sale!

Follow @NolaTricia