Anytime we go to a restaurant that has marinated crab claws on the menu, I can guarantee you that my husband will order them. Of all the ones he has tried, Copeland's of New Orleans is his favorite. This recipe was listed all over the web as similar to Copeland's. I made them last weekend and although slightly different from the original they were delicious.
The toasted French bread served on the side is a MUST! That is what makes this dish so addicting.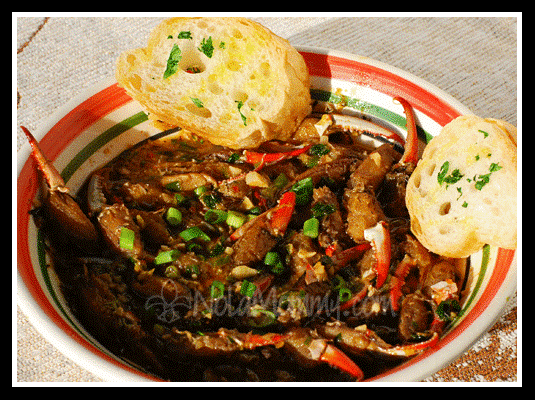 Louisiana Marinated Crab Claws
Impress your friends with this appetizer! Remember: It tastes better when you use Louisiana seafood!
Ingredients
2 teaspoons garlic
1 teaspoon parsley, chopped
2 tablespoons scallions, chopped
2 tablespoons butter, divided
2 tablespoons Cajun seasoning
I used 1 tbs Tony Chachere's & 1 tbs Emeril's Original)
6 oz fresh crab claws (You can also make it with Shrimp or Crawfish)
3 oz chicken stock
1 oz Italian dressing
Loaf of French Bread
Instructions
Place parsley, garlic, scallions and seasoning in saute' pan with 1 tbs of butter
Saute' until butter is melted
Add seafood, chicken stock, and Italian dressing and increase to high heat and toss until seafood is cooked through and through
Add remaining butter and swirl into sauce; do not boil
You can use additional scallions or parsley as a garnish for color
Preheat oven to 350 degrees F to toast French Bread
Slice French Bread into thin pieces (approximately ½")
Drizzle with Olive Oil* optional
Bake until toasted
Serve around crab claws
Notes
To get the full flavor of this dish, dip and soak your French Bread into the sauce.

Follow @NolaTricia