Recently, I had the opportunity to enjoy the New Orleans tradition of afternoon tea at Le Salon, in the Windsor Court Hotel. It was a delightful experience and a wonderful way to celebrate any occasion or enjoy an afternoon with girlfriends.
Even though my mom's family lineage is majority English, including a King of England which makes Queen Elizabeth II my 20th cousin, I admit that I prefer a cup of coffee over tea. I was slightly overwhelmed when looking over the extensive menu of 26 of the finest loose-leaf tea varieties. Our server was very knowledgeable and explained the various types of teas and helped my friend and I choose a tea that would fit each of our tastes. I settled on white tea infused with vanilla-grapefruit and my friend, an avid tea drinker, chose the bolder Connoisseur, an English breakfast tea that is a combination of black teas.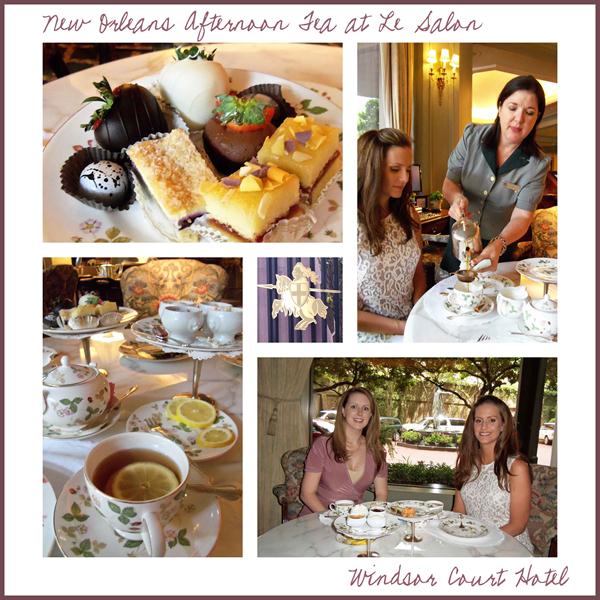 Our tea service began with choosing our favorite tea and then we were served tea sandwiches including egg salad with mango chutney and cucumber sandwiches with dill sun dried tomato cream cheese spread. The second course included two varieties of scones accompanied by lemon curd, raspberry preserves, Devonshire cream and vanilla bean whipped cream. I love to pair a scone with my morning coffee and these were some of the best that I have ever had. Finally, our last course consisted of a delicate assortment of sweets such as chocolate covered strawberries, chocolate truffles, berry cheesecake, and petit fours. During he entire tea service there was a pianist playing soft melodies on a baby grand piano. My only regret is that I didn't wear a hat or a fascinator! There were ladies that paired their outfits with the cutest headpieces and the entire time I was telling my friend that I wanted to go shopping for an outfit and hat for our next tea. We are already planning to go again with a group of girls and I will have a hat.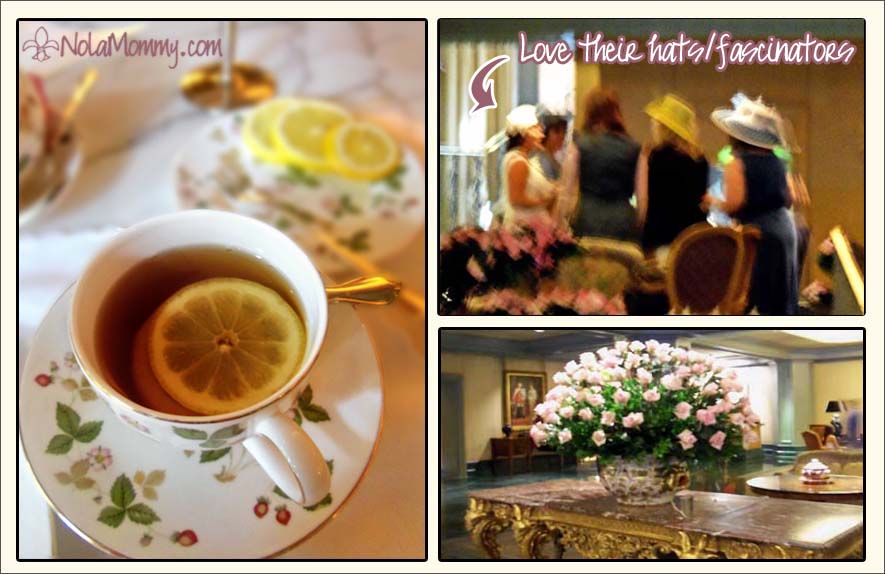 Overall, it was a wonderful experience and one that I am already looking forward to repeat. It is a perfect venue to celebrate any occasion from a birthday, to an upcoming wedding, and even just an excuse to catch up with friends while being pampered.
This weekend they are hosting a Mommy "Time Out" Tea. It is a chance for mothers to get together, catch up and enjoy quality time with their friends. As moms, we all need time set aside to relax and recharge and I can't think of a better place than afternoon tea at the Windsor that I would like to serve my "Time Out."
What: Mommy's Time Out Tea
Where: Le Salon in the Windsor Court Hotel in New Orleans
When: Saturday, September 17, 2011 at 2:00pm
Call 504.596.4773 or visit the Le Salon reservations page

Follow @NolaTricia