First, I want to extend a HUGE thank you to Tricia at NOLA Mommy for inviting me to do a guest post on her blog! Check out her jambalaya recipe on Cajunlicious. Since we are both NOLA girls, we are doing Cajun dishes on each other's blogs so you are in for a double cajunlicious treat!

So you are wondering what exactly is Cajun?

The Cajun culture knows how to celebrate a good time, which involves an energetic spirit motivated by Zydeco music, good friends, and family, and of course, a large quantity of Cajun cooking that is passed down the generations.

Experiencing Cajun culture is like no other. Cajuns are known for their"joie de vivre" (joy of living) the music and food are both rich in tradition and flavor. One of the best ways to experience Cajun food is at a festival. Any time is festival time in Cajun Country. Nearly all festivals feature live music, contests, native crafts, food and, of course, dancing. Each season in Louisiana is celebrated with festivals all year.

Cajun cuisine (in French: Cuisine Acadienne) An authentic Cajun meal is usually a three-pot event, with one pot devoted to the main dish, one dedicated to rice, cornbread, or another grain dish, and the third containing a vegetable. The food is regularly spicy and typically makes use of regionally abundant provisions such as seafood, wild game, and rice. Most Cajun dishes begin with trinity, which provides the distinctive flavoring of specific dishes.

To read more about Cajun Culture click here

Therefore, without further ado, I give you my Andouille Dirty Rice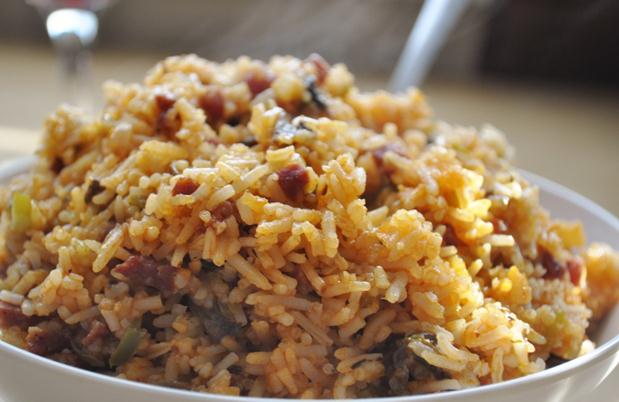 A spicy twist on the traditional Cajun dish.

Traditional dirty rice is made from Boiled Cajun Rice cooked with small pieces of chicken liver or giblets, which give it a "dirty" color and a distinctive flavor.

You will need

 1-cup long grain white rice

Chicken stock

8 ounces of Andouille sausage, diced

1 & 1/2 cups trinity

3 white mushrooms, sliced

2 garlic cloves, pressed

Tabasco pepper vinegar

Crystal hot sauce

Cajun season blend

To make the Cajun season blend mix salt, pepper, parsley, granulated garlic, onion powder, cayenne powder, and a pinch of dried thyme. Mix well and adjust to your liking.

Directions

For the rice

Rinse rice 2 times with a strainer to remove extra starch. Place rice in a saucepan and add 1 ½ cups chicken stock, 1-teaspoon olive oil, and a pinch of sea salt. Place saucepan (uncovered) over high heat and bring to a boil, stirring occasionally. Let the stock reduce slightly below the rice. Cover and reduce heat and simmer for 20 minutes.

Sauté the andouille on medium high heat to brown. Once browned and slightly crispy lower the heat to medium and render the fat.

Remove andouille with a slotted spoon into a bowl. Sauté the trinity in the rendered fat until soft and add the garlic and mushrooms and continue to cook until the garlic is fragrant. Add the seasoning mixture and stir.

Add 2/3 cup chicken stock and 1/2 teaspoon Tabasco pepper vinegar and deglaze the pan scrapping up any brown bits. Add the amount of hot sauce you like to season while the cooking in finishing.

Add the andouille and rice. Cook until liquid is absorbed.

View my post about perfect Boiled Cajun Rice.