I shared this post at Cajunlicious, a great site featuring delicious Cajun recipes, and now I am sharing it here. Enjoy!
New Orleans is a city filled with traditions, a colorful history, and lots of perseverance. Growing up, Sundays in the spring were reserved for crawfish boils, Sundays in the fall were for Saints football, and every Sunday there was a stop at Grandma's for food and visiting with family. New Orleanians are extremely passionate about our food and always prefer it flavorful and a tad bit spicy. We can find any excuse to celebrate just about anything. For example, in 1968, the Governor of the state of Louisiana declared Gonzales, LA (just outside of Baton Rouge) the Jambalaya Capital of the World and each year they host the annual Jambalaya Festival. There are festivals for everything.
There is Jazz Fest, Gumbo Fest, Oyster Fest, The Strawberry Festival, and the list goes on and on.
Today, I am excited to share with you a recipe for the Cajun favorite jambalaya. No one knows for sure where the name jambalaya came from and it's pronounced juhm-buh-LI-yah. The first syllable is pronounced more like "jum" than like the jam you would put on toast. It is considered by most Louisianans to be a filling, easy to make, one pot dish. Consisting of rice, vegetables, and meat it is also an inexpensive dish. There are two distinct versions. The first is considered creole jambalaya which contains tomatoes and has a reddish color. The second variation is considered Cajun jambalaya and does not have tomatoes but instead uses chicken or seafood stock. Rarely, does anyone distinguish between creole or Cajun, but instead refer to it as simply jambalaya. The most popular style of jambalaya is made with sausage and/or Andouille and chicken, but any type of meat such as crawfish, shrimp, oysters, alligator, or even venison can be thrown into the pot. The dish was first mentioned in 1837, and was influenced by the Spanish, French, and spices from the Caribbean, making it unique to South Louisiana.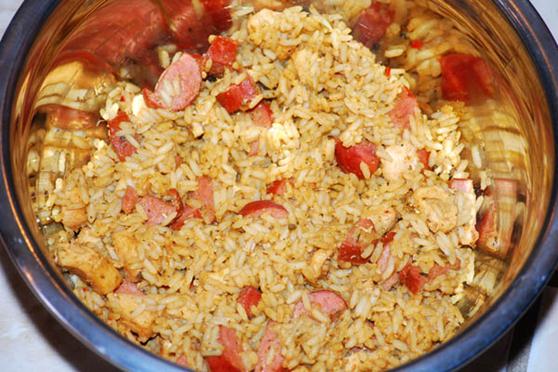 Ingredients:
1 lb. chicken, cut in cubes
1 teaspoon Cajun seasoning (Tony Chachere's works well)
1 tablespoon vegetable oil
½ lb. smoked sausage, sliced (I substitute turkey sausage to cut calories)
1 cup chopped onion
½ cup chopped green bell pepper
½ cup chopped celery
1 tablespoon minced garlic
1 tablespoon powdered dark roux
½ cup warm water
2 cups rice
3½ cup chicken broth
1 teaspoon Tabasco (hot) sauce *optional* (I just put a bottle on the table)
¼ cup chopped green onions *optional garnish
Directions:
1. Season chicken with Cajun seasoning.
2. In a large sauce pot (many people use a cast iron pot) heat oil, stir in seasoned chicken and cook over medium heat for 10 minutes, stirring occasionally. Add smoked sausage and cook for additional 5 minutes.
3. Stir in onion, bell pepper, celery, garlic and cook for 5 minutes. Dissolve roux into warm water and stir in, cover pot and cook for 10 minutes, stirring occasionally.
4. Stir in rice; add chicken broth. (to cut down on sodium, decrease on the amount of chicken broth and substitute water). Add additional Cajun seasoning as desired ( I always add a few more shakes). Bring to a boil, cover pot, and turn the heat to low to medium and cook for 30 minutes, stirring every 10 minutes. Stir again.
5. Sprinkle with green onions (optional) and serve. Don't forget to put the Tobasco's on the table!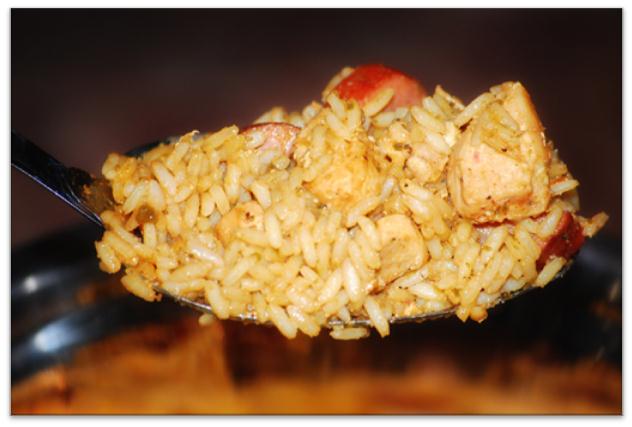 I hope you enjoy this Louisiana tradition!


Follow @NolaTricia