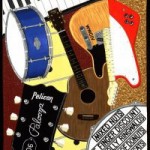 What:
Pelicanpalooza
, the main fundraiser benifitting Camp Pelican, a camp for children with pulmonary disorders
When: August 7, 2011
Time: 12 pm – 8pm
Cost: $15 & kids under 12 are free! Family Friendly Event
.
.
The date for Pelicanpalooza 2011 is set for Sunday August 7th at Southport Hall!!! Entertainment will be provided by THE MOLLY RINGWALDS, THE TOPCATS, WEATHERED, and 5 FINGER DISCOUNT!!! 4 GREAT bands for only $15!! Kids under 12 are free!!
Pelicanpalooza is an annual benefit concert to raise money for Camp Pelican. Camp Pelican is a non-profit organization that sponsors events for children with pulmonary disorders such as Cystic Fibrosis, Asthma, and Ventilator assisted children.
Camp Pelican's primary activity is a weeklong summer camp program held each year at the Louisiana Lions Campground in Leesville, LA. There is NO COST to the child or his or her family to attend the camp. All support staff are involved strictly on a volunteer basis. These volunteers go through an intensive orientation that trains them to abide by all ACA guidelines.
For more information about Camp Pelican or to donate to a wonderful cause, please visit

Follow @NolaTricia