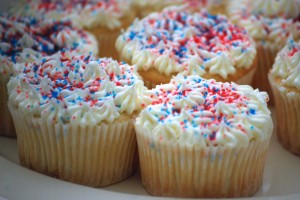 Here in New Orleans, a traditional wedding cake consists of a delicate combination of almond and vanilla flavoring. It's a distinct flavor that transcends just cake and can be found in snowballs, ice cream, and coffee. My favorite coffee shop, PJ's Coffee of New Orleans,  just released a Southern Wedding Cake coffee that is divine. Without a wedding to attend in the near future, so I can get my wedding cake fix, I decided to find a wedding cake recipe to use for a batch of cupcakes. I searched the Internet and found that most recipes only included vanilla extract and lacked the almond flavoring. I finally found a wedding cake recipe that was close to what I was looking for and tweaked it to taste like a New Orleans Wedding Cake. I made these for the 4th of July and used red and blue glitter for decoration. Enjoy!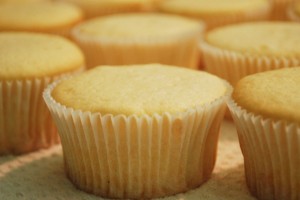 Cake Ingredients:
1 (18.5 oz) box white cake mix
1 cup all-purpose flour
1 cup granulated white sugar
3/4 teaspoon salt
1 1/3 cups water
2 tablespoons vegetable oil
1/2 cup sour cream
4 large egg whites
1 1/2 teaspoon almond extract
1 teaspoon vanilla extract
Directions:
1. Preheat oven to 325° F. Place cupcake liners in cupcake pans (approx. 36)
2. In a large bowl, whisk together cake mix, flour, sugar and salt. Add remaining ingredients and beat with hand mixer for 3 minutes, or until blended.
3. Use an ice cream scoop with a sliding arm to fill cupcake times. Fill about 3/4 full. Bake about 18 minutes or until you can insert a toothpick in the center and it comes out clean.
Icing Ingredients:
3 cups powdered sugar
1 cup butter (at room temperature)
1/2 teaspoon clear vanilla extract (add additional almond or vanilla extract to taste)
1/2 teaspoon clear almond extract
1-2 tablespoons whipping cream
Directions for Icing:
1. In a large bowl combine sugar and butter on low speed with hand or stand mixer. Mix until well blended.
2.  Add vanilla and almond extract and whipping cream. Continue to beat on medium speed for 1-2 minutes more adding more cream as necessary for desired consistency.
3. Decorate your cupcakes as desired. I used a piping bag with a star attachment for the icing. Many wedding cake cupcakes are decorated with edible pearls for a cute finish.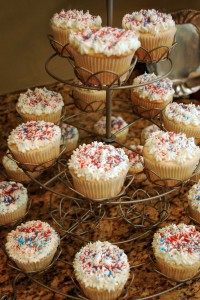 Follow @NolaTricia