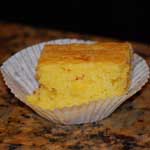 Today in the city, the lunch special all across town will be traditional    New Orleans Red Beans and Rice. Having red beans on Monday started because it used the leftover meat from Sunday dinner and could be left generally unattended while the washing was done. Traditionally, cornbread is served along with the dish. Some eat it separately, while others enjoy it crumbled in. People's recipes for cornbread vary greatly and I have heard it say that it varies by location. My grandmother, from South Mississippi, enjoyed hers made from fresh cornmeal in the shape of a thick pancake and always cooked it in a black iron skillet. I prefer a sweet, fluffy cornbread that I make in muffin tins and last Monday a friend gave me a recipe for a saltier cornbread made with adding corn and sour cream. My husband prefers the saltier one, so I guess I'll leave it to our son to be the deciding family vote.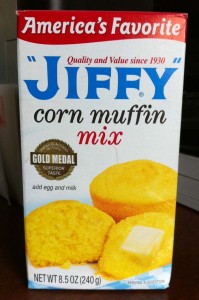 Here are two recipes, one for the sweet cornbread and for the saltier version. Both use Jiffy Cornbread Mix. You can either bake these in muffin tins with the paper liners like you would do for cupcakes or you can use a 8×8 pan or 13×9 pan. Enjoy!
Sweet Version:
1 package JIFFY corn muffin mix
1 egg
1/3 cup milk
2 tablespoons sugar
1 teaspoon baking powder
1 teaspoon of lemon juice
slightly less than 1 capful of vanilla extract* optional
Preheat oven to 400 degrees F. Blend the first three ingredients per Jiffy box. Then add the sugar. Sometimes I add a little less than 2 tbs and sometimes a little more. Mix the sugar in. Add the baking powder and pour the lemon juice on top of the baking powder. Let it sit 3 – 4 minutes and it will bubble. Re-stir and fill muffin cups or pan. Bake 15-20 minutes or until golden.
Salty Version:
3 large eggs
1/2 cup vegetable oil
1 teaspoon salt
8 ounces creamed corn  (can)  *may use 8oz fresh cooked corn
1 cup sour cream
1 1/2 boxes JIFFY corn muffin mix
Lightly grease a 13×9 pan. (I used an 8×8 pan and it worked just fine) Preheat oven to 375 degrees F. Beat eggs until blended, and then add the oil and salt. Add the corn and sour cream and finally add the JIFFY muffin mix. Bake 30 – 35 minutes until golden.
Optional Extras:
Sweet – Honey, brown sugar, sweet corn, creamed corn
Salty – Green chilies (drained), peppers, various cheeses
Have fun in the kitchen and enjoy trying various additional ingredients until you find the recipe that you like the best.
How do you like your cornbread? Do you prefer Sweet or Salty and what extra ingredients do you add?

Follow @NolaTricia