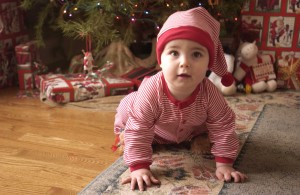 1. Budget & Plan your Gift Giving Strategy
Prior to the holiday season I make a list of everyone I plan to purchase a present for and how much I want to spend. From there, I decide on a budget and some gift ideas within my allotted price range. I keep a running list in my iPhone and when I see a gift that I think someone would like I either scan it with my phone or put it my Christmas shopping app. Yes, there is an app for everything, even Christmas shopping on a budget.
2. Purchase some items after Christmas for next year
Every year on the day after Christmas I hit the stores in search of items such as wrapping paper, gift tags, and ribbon that I know I will use the following year. I keep a crate in the attic just for these types of items. I love coordinating my theme for the year and this way it is affordable. My wrapping paper matches my ribbon on my tree. Yes, I am a little picky.
3. Order your Christmas Cards Early
I love taking pictures and when it comes to choosing Christmas cards,  I try to showcase some of my pictures of my son. I have found that Tiny Prints Christmas Cards are excellent for showing off my son's photos in a sophisticated, elegant and fun way. The hardest part is choosing your favorite design because they are all so precious.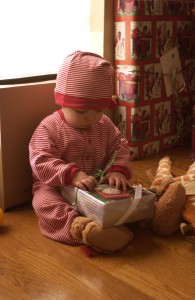 4. Plan your Holiday Stops Early
If possible, plan your holiday visits early in advance. With extended family's celebrating at different times and on different days it can be a stressful experience trying to visit everyone. Plan in advance whose home your going to visit and when. This can prevent marital strife on the holiday itself because sometimes this has to be a point of compromise.
5. Start Holiday Traditions for your Family
I have traditions that I have passed down to my son and we have created a few of our own. For example, just like my family growing up, we decorate our tree the weekend after Thanksgiving with Christmas music on in the background while sipping hot cocoa. A new family tradition with my son is our Elf on the Shelf. He shows up every year and "watches" for good behavior. We also bake cookies for Santa together.
6. Plan your Holiday Menu Early
We do potluck for the holidays and everyone chips in and brings their signature dishes. Since some of the holidays are celebrated at my house, I try to coordinate what everyone is bringing so that we have a good variety and not 10 pumpkin pies. Everyone brings their specialty and we usually have a nice spread.
7. Schedule Time to Relax
The holidays can be very hectic and tend to go by really fast. Take the time to relax and enjoy the holiday season. Sip some hot chocolate by the fireplace while listening to the Harry Connick Jr. Christmas CD. That's what I call cozy.
8. Pick up your Camera
The holidays are a perfect time of the year to take lots of pictures. Take pictures of family get-togethers, family activities, hanging Christmas lights, and anything that makes you smile. These are the moments that you will cherish when your kids are older.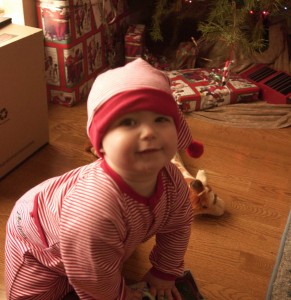 9. Store your Pictures in a Safe Place
I have one photo album that is designated Christmas. After each Christmas I place 25-50  of my favorite Christmas photos in order by year. I love looking at photos from each Christmas and being amazed at how much my son has grown from one Christmas to the next.
10. Stay Focused on the Important Things
Remember the holiday season is about faith, family, and friends. Sometimes we tend to focus on the material and not the spiritual. Look around at your  family and be thankful for the little things in life.
"I wrote this blog post while participating in the TwitterMoms and Tiny Prints blogging program, making me eligible to get a $75 Tiny Prints gift certificate! For more information on how you can participate, click here."

Follow @NolaTricia